President's baccalaureate sermon: "Dawning lights"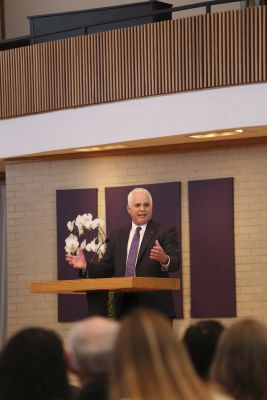 RELATED LINKS:
---
Baccalaureate sermon (as prepared for delivery) by Dr. James E. Brenneman, president of Goshen College on Sunday, April 26, 2015 in the Goshen College Church-Chapel
Text:  Isaiah 58:6-9
I.
Fiat Lux!" "Let there be light!" These are the very first spoken words in Holy Scripture. And they are spoken by the Creator God.
Fiat Lux! "Let there be light!" These words serve as the motto of some 50 colleges and universities and other educational institutions around the world. And as you see in your program, the official seal of Goshen College incorporates within it a lighted-lamp on a book surrounded by our motto: "Culture for Service." Clearly, light, as illumination, light as created energy; light as enlightenment pushing against ignorance, is a near perfect symbol of a well-rounded liberal arts education.
One of our alums from the class of 1983 took the symbolic power of the GC seal to a whole new level. A couple of years ago, I was sitting next to him at a soccer game and noticed he had a perfect purple circle tattooed to the outside of his left calf. Like so many tattoos, it begged for attention. I tried not to stare, but did so incognito. When I looked closer, I saw the Aladdin-like lighted-lamp on a book, and sure enough, it was the GC seal on his calf.
The first thing I thought was, "Crazy-Loyal!" The second thing I thought was, "Wow, that tattoo is going to go to the grave with him. How amazing is that?"
By then he noticed me staring at his leg, I think. So I asked him, "What possessed you to do that?" Actually, not really, that's what I thought. What I said was, "Wow, that's cool. When did you do that? And more importantly, why?" He said he had done it seven or so years earlier for his 25th class reunion. Later, I found out it cost him $130 and took two hours to do. He said that the tattoo symbolized for him the great time he had playing soccer at GC for four years as a goalie; it symbolized the dozens of life-long friends he had made. He wanted to make a dramatic and permanent statement of the dramatic and permanent impact Goshen College had made on his life. This ardent alum gives a whole new meaning to, "This little light of mine, I'm gonna let it shine." Hide it under a bushel? No! Absolutely not! Let Satan blow it out? Not-a-chance!
II.
The prophet Isaiah (58) in the Scripture passage chosen by your fellow graduates for this occasion describes a people whose light (8-9) "breaks forth like the dawn," whose healing quickly appears, whose lives are surrounded by God's glory, so that when they cry for help, the Lord will answer and say to them, "Here am I."
Who are these lights that break forth at dawn? How do they happen to arrive at such a glorious end? How is it that they experience God's healing presence around about them? Why is it that God answers their cries for help? Who are these dawning lights?
Isaiah already answers these questions in the previous stanzas of his prophetic proclamation (6-7): the dawning lights are those who loose the chains of injustice, set free the oppressed, who share their food with the hungry, who provide shelter to the poor, who clothe the naked, and never turn away from their fellow human beings in need.
III.
Fiat Lux! Let there be light! "You are the light of the world," Jesus says in his Sermon on the Mount (Matt. 5:16-18). "Let your light shine!," he insists. Tattoo the lighted-lamp to your heart! And then sounding a lot like the prophet Isaiah before him, he adds, "Do good works, deeds of mercy, so that others who see them will give glory to your Father in heaven."
Fiat Lux! "Let there be light! And, behold, "there was light!" A very big and bright bang, indeed.
Light, was said to be the first great work of creation, and light was given indiscriminately to the whole world: saint and sinner, believer and unbeliever, friend and enemies. Just as God makes it rain on the just and the unjust, so God also makes the sun to shine on the deserving and undeserving. Light travels lightly, rays filtering through forests, seeping into our days, bursting forth into sunrise, peeking from behind clouds, mirrored by the moon. Light just happens, it seems.
Fiat Lux! "Let there be light. . . and there was light. And God called the light good!" The Quakers speak of the "divine light in every person" — a basic gift given by God to each and every person. How good is that?
Fiat Lux! Let there be light! Here at Goshen College, even today, right now, when we say "Let there be light," our expectations are no less real or hopeful than when these words were first uttered by God at the dawn of creation.
Indeed, with evidence all around us and in this very room, we declare with Scripture, Fiat Lux! "Let there be light. . . and, behold, there is light! You are the light of the world. You are the dawning lights. And God calls you good.
Fiat Lux! "Let there be light!" is a claim on reality that God is about to do something wonderful in and through us. So let us rise each day in expectation like the first light of creation! Let us rise to hold the Christ-light for others, so that those who walk in darkness will see the light that is the light of the world. Sometimes that is all that a friend or neighbor needs. Helen Keller, blind and deaf from birth, said of herself, "Walking with a friend in the dark, is better than walking without a friend in the light."
Let us rise as morning stars to share the good news of hope and healing beyond all borders to anyone who needs it anywhere anytime any place. Just as a candle is not diminished by lighting another candle, neither will our light be diminished by crossing borders of orthodoxy or faith or propriety or belief or culture to be a light for others. Dawning lights, you see, overflow borders readily. It is in the nature of sunlight, moonlight, starlight, light itself, to shine across national, denominational, political, geographical, ideological, racial, ethnic, and sexual lines drawn in the sand. Dawning lights travel lightly and are not loaded down with stuff that hinders them from picking up and moving beyond the bounds, beyond their own limitations, beyond zones of comfort in order to shine forth hope and healing to the world.
IV.
There are so very many dawning lights emanating from this place that it's almost blinding. I cannot keep track. So here, I can only highlight a few of many rays of healing and hope that shine forth each and every day on and off campus:
When many of you first arrived on campus, you helped build our first ever complete Habitat for Humanity house on 12th Street for our custodial staff person and his family. And you've helped with building others each year since;
Each year and just this past week, you organized the "Take Back the Night" and Clothesline projects that bring awareness to sexual violence and other forms of abuse;
You staged border crossings on campus to raise awareness of the indignities and difficulties of immigration;
You spontaneously on moments notice built an altar and held a special convo to remember the 43 fellow college students kidnapped and likely killed from the teacher's college in Mexico,
You led the Open Letter and purple shirt movement seeking redress for LGBTQ persons;
You prayed, and prayed hard, organizing each year, three-day, 24 hours a day Prayer Odysseys;
You sang and sang hard, leading the thirty-hour nonstop hymn sing for Peace (658 hymns) that raised $15,000 for Christian Peacemaker Teams;
You planned and led great worship services like this one, or in chapel or on your floors or Taize services or Unity worship nights.
You traveled as a nursing squad to learn and serve the people of Nepal, for whom our hearts are poured in prayer and sadness as our Nepalese graduates and their parents here this morning mourn the loss from the devastating earthquake of yesterday.
You created a gorgeous Indigenous Peruvian Cookbook to raise funds for a small school lunch program in the Peruvian campo where you served and will serve again after you graduate,
These and many other acts of service you have shown on campus and off, across the street and around the world. You live out the words of Jesus in the Sermon on the Mount and you do so in ways unmatched by peers in any other college or university bar none. You inspire and enlighten the world. You truly are the light of the world. You cannot be hid.
In just a few minutes we will have the ensemble Voces Unidas come to sing "Vasija de Barro," a national hymn of Ecuador. I trust this piece will inspire you like it did me when I first heard it sung at this year's International Student Coffeehouse – a night of celebrating the prism of light born in all cultures on every continent shining brightly right here at Goshen College. The song, in Quichwa and Spanish, captures the soul force of the indigenous tribes of the Andean highlands. It evokes an ancestral cry for mother earth from whom we are born, to whom we will return. At base, it's a prophetic cry like that of Isaiah and Jesus to save her from the ravages of industrial logging, oil-drilling, and strip mining.
Each of the women in the ensemble is profoundly connected by birth, heritage, study and service to the global south – the Americas down under or above depending on how you imagine the earth. Each shines her light on and off campus through her art, music, sports, writing and voluntary service. Indeed, each one of them and each of you graduating today, are dawning lights, morning stars, ever singing, and ever shining.
V.
So, graduates, "Let your light shine for all its worth!" It is a glorious calling, a sacred vocation, the first act of God's creation, your most precious gift. Shine forth on the poor, the captives, the down and out, those in need, the oppressed, the broken- hearted, and the weeping earth. Shine forth with neighborly and compassion and love.
"Shine like the Sun!" the poet Hafez proclaims. Shine like the sun, so unselfishly, so generously, so willingly upon every one. Every-one! Shine like the sun, who after all this time, the poet says, has never yet pointed an accusing finger at the Earth saying, "You owe me." And what happens when such generous love is shown day in and day out beyond all borders upon everyone, every-one? asks the poet. "It lights up the whole sky!" That's what happens.
Fiat Lux! dear graduates. Let it shine. Let it shine. Let it shine.