International connection: Goshen Rotary Club supports GC international students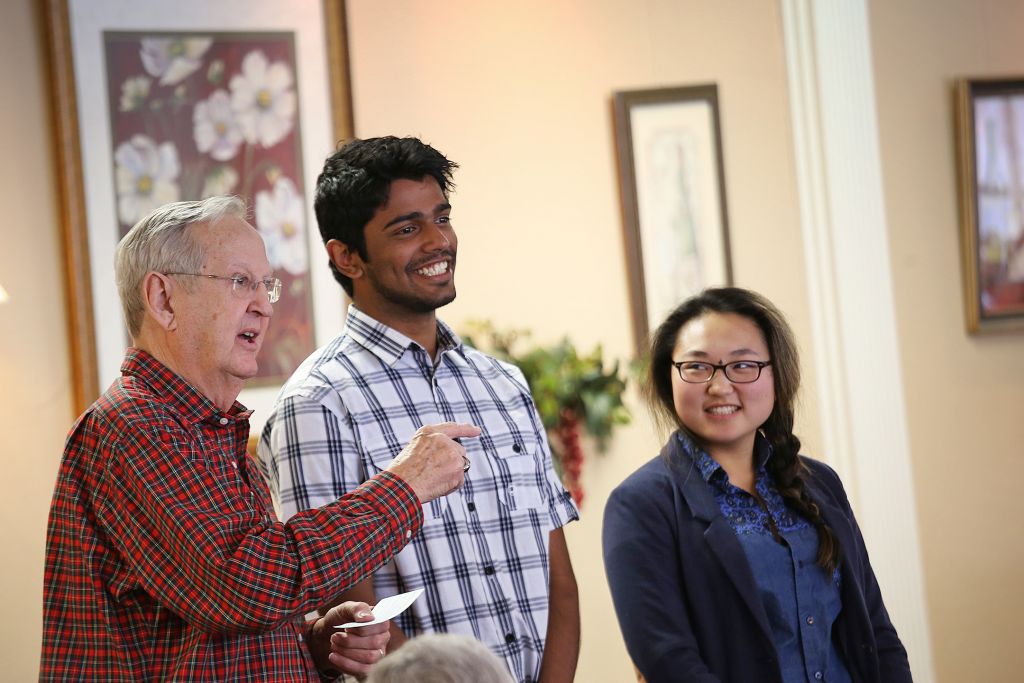 Whether its members are sharing a meal together, singing "Home on the Range" as is tradition, or providing financial support, the Goshen Rotary Club has enabled Goshen College students from Brazil, Ethiopia, India, Iran, Korea, Mongolia and various other countries to learn about the infrastructure of the Goshen community and establish relationships with its leaders.
In the past 53 years, the Goshen Rotary Club has connected with and provided scholarships to almost 100 international students at Goshen College.
From 1961 to 1997, the Rotary provided financial aid to one GC international student each year. However, as years passed, the Rotary increased the aid amount and awarded scholarships to more students. Currently, the Rotary offers scholarships worth $1,000 to two international students at Goshen College every semester.
Not only do the Rotary Club scholarships financially assist international students, but they also provide an educational opportunity for both the Rotary members and the students. Every Friday, the Rotary members and the international students meet together for lunch at a local country club.
"It's a two-way exchange of information," said Skip Barnett, Goshen College international student advisor. "The college students have lunch, meet new people and hear from guest speakers about any topic of interest to local business and civic leaders in town. The Rotary also receives the opportunity to meet students from different countries whom they would have never met before."
According to Barnett, this program offers the international students exposure to the efforts of the Rotary in making the local community a better place. The students learn about the ongoing projects, as well as fundraising and volunteer work, of Rotary Club members.
"The Rotary is another layer of social leadership, as with the national and local government," Barnett said. "These are civic-minded folks who raise money and actively participate in doing good deeds for the community. I want to expose as many international students to this—it's educational—and for the Rotary to meet the international students whom they are supporting financially."
Benjamin Thapa, a fall 2014 recipient, emphasized the benefit of the learning he gleaned from participating in the weekly lunch meetings.
"I learned something new every meeting I attended," Thapa said. "It's great for networking."
The fall 2014 recipients were Martin Banda, a senior molecular biology/biochemistry major from Mozambique, and Benjamin Thapa, a junior art major from Nepal, and this year's spring recipients are Solongo Gonchigsuren, a junior accounting major from Mongolia, and Yohaan Varghese, a senior accounting major from India.
– By Shina Park
Related:  alumni startup