Spektral Quartet to mix music and imagery in Haydn's "Seven Last Words of Christ"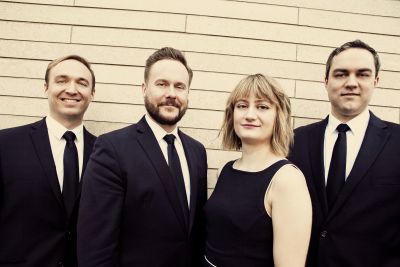 Event: Rieth Chamber Series – Spektral Quartet
Date and time: Sunday, March 29, 2015, 4 p.m.
Venue: Goshen College Music Center's Sauder Concert Hall
Tickets: $15 general admission. Available online at goshen.edu/tickets or (574) 535-7566.
The Chicago-based Spektral Quartet returns to the Goshen College campus to perform Joseph Haydn's "The Seven Last Words of Christ" on Sunday, March 29 at 4 p.m.
This Palm Sunday concert in Sauder Concert Hall will mix outstanding string quartet chamber music with fine art visuals arranged by Goshen College professor Jo-Ann Brant, and interspersed readings by Goshen College professor Paul Keim.
General admission tickets are $15, available online at goshen.edu/tickets or by calling (574) 535-7566. Goshen College students are admitted free with ID.
There is no improving upon the genius of Haydn's string quartets. There is, however, some room for innovation when it comes to "The Seven Last Words of Christ, Op. 51." This string quartet transcription from the orchestral original was likely not penned by the hand of Papa Haydn, and the Spektral Quartet delivers a fresh new version of this sacred masterpiece work.
Working from the orchestral score, Chicago-based arranger Joe Clark has been conspiring with Spektral since 2012 to resurrect woodwind lines and rebuild dubious chord voicings in an effort to return the quartet closer to the integrity of Haydn's original. Given the historical weight of "Seven Last Words" as a revered Holy Week tradition, Clark and the quartet endeavor to give concertgoers an elucidated listening experience, rather than an unfamiliar one. It is a piece of profound reflection and stirring depth, and the Spektral Quartet is delighted to be returning to Goshen for this special performance.
The exquisite acoustics of Sauder Concert Hall provide a perfect setting for this moving work, one which is frequently as potent for the secular as the religious in its portrayal of abandonment, familial bonds and hope.
Founded in 2010, the Spektral Quartet is widely regarded as one of Chicago's most magnetic and forward-thinking chamber ensembles. The group's inclusive approach to concert format, shifting the role of audience member from spectator to ally, has earned it a loyal following within and beyond the city limits.
Since its inception, the Spektral Quartet has sought out the discourse between the masterworks of the traditional canon and those written this decade, this year, or this week. Rather than simply pairing Brian Ferneyhough with Josef Haydn or Thomas Adès with Béla Bartók, though, the group offers listeners an even more elastic and absorbing experience through its Sampler Pack concert format. For these performances, shorter works and single movements are curated in a set list containing a menagerie of musical styles that span centuries. The unexpected similarities and enticing contrasts between two or three composers becomes a conversation between twelve.
For its 2014-15 season, AMPLIFY, the quartet unveils its four largest-scale commissions to date as well as centerpieces from the traditional canon. These adventurous new works push the ensemble into uncharted and thrilling new territory.
The Spektral Quartet serves as ensemble-in-residence at the University of Chicago and was invited in 2013 to join the Rush Hour Series's Back-of-the-Yards project, which offers year-long music education and outreach in one of Chicago's most under-served neighborhoods.
The Rieth Chamber Series features six concerts by outstanding organists and chamber music ensembles including the Telegraph Quartet, Spektral Quartet and St. Alban's Organ Competition winner Simon Thomas Jacobs, plus a bonus concert with reception for series subscribers only. Music Center Executive Director Marcia Yost explains that series supporters "will provide support for ongoing, accessible classical chamber music at Goshen College, as well as aid in establishing a reputation with performing artists for appreciative Music Center audiences." More information about this series is online at www.gcmusiccenter.org/concerts/riethseries.