Goshen College bands to present joint concert in Sauder Concert Hall, March 21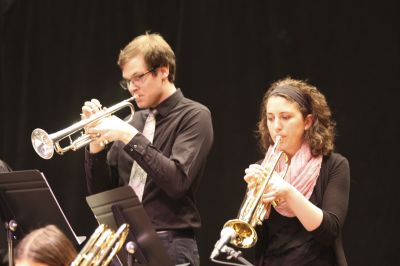 Event: Goshen College Lavender Jazz & All-Campus Band Spring Concert
Date and time: Saturday, March 21, 2015, 7:30 p.m.
Location: Sauder Concert Hall, Goshen College Music Center
Tickets: $7 adults, $5 seniors/students, available at the door one hour before the concert. GC faculty/staff/students free with valid ID.
Goshen College's All-Campus Band will perform alongside GC's Lavender Jazz ensemble in a joint concert, Saturday, March 21 at 7:30 p.m. The concert will take place in Sauder Concert Hall. Each ensemble will present one half of the concert.
All-Campus Band is conducted by Christopher Fashun and features wind musicians from across campus, both music majors and non-majors, and includes faculty and staff. Their program will include works for wind ensemble by Eric Whitacre, Leonard Bernstein, Edwin Eugene Bagley, Jose Padilla, Frank Tichelli and Alfred Reed. 
Lavender Jazz is Goshen College's big band, and is led by Chris French. This student ensemble's program will include jazz charts by Charles Mingus, Gordon Goodwin, Nate Kimball, Bill Liston, Miles Davis and more.
Tickets for this concert are $7 adults, $5 seniors/students, available for purchase at the door beginning one hour before the concert. GC faculty/staff/students are free with valid ID.
A versatile instrumentalist, Chris French is an accomplished clarinetist, saxophonist and flutist. He received B.M. and M.M. degrees from the Juilliard School. While in New York, he was principal clarinetist of the National Orchestra of New York, and studied with Leon Russianoff, Joe Allard, Charles Russo and Warne Marsh. After briefly playing with the Orquesta del Estado de Mexico, he returned to Los Angeles (where he grew up) and pursued a career as a symphony orchestra and recording studio musician. In addition to Goshen College, Mr. French is also on the faculty of Indiana University South Bend and St. Mary's College. He plays regularly with classical and jazz performing groups in Indiana, Michigan and Illinois, and has been featured soloist with many Michiana music ensembles. Mr. French has played at the Elkhart Jazz Festival for the past 10 years.
Christopher Fashun, DMA, is assistant professor of music at Goshen College where he conducts the Symphony Orchestra, directs the All-Campus Band, teaches applied percussion, serves as the coordinator for the music education program and frequently conducts the orchestra for musicals and operas. An accomplished percussionist and violist, he has several years of orchestral and chamber music experience and has enjoyed success in both areas as a soloist by winning three concerto competitions. During the past decade, Dr. Fashun has concentrated his study of world percussion in Brazilian and Afro-Brazilian music and dance.