Engaging our history of segregation: Dr. James Loewen to speak March 2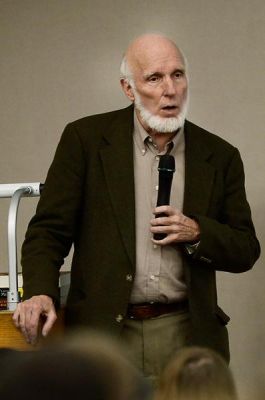 Lecture: "The Most Important Era You Never Heard Of and Why It's Still Important Today," by Dr. James Loewen
Time and Date: Monday, March 2, 7-8:30 p.m.
Location: Goshen College Church-Chapel
Cost: Free and open to the public
Historian, former university professor and author Dr. James Loewen will give a public lecture titled "The most important era you never heard of and why it's still important today," at Goshen College on Monday, March 2, 7-8:30 p.m. in the Goshen College Church-Chapel. The free lecture aims to help residents understand how the county's history of racial segregation has shaped the present.
Author of "Lies My Teacher Told Me: Everything Your High School History Textbook Got Wrong" and "Sundown Towns: A Hidden Dimension of American Racism," Loewen is a leading expert on the 20th-century phenomenon of "sundown towns"—jurisdictions that excluded African Americans or other groups by ordinances or social means.
The city of Goshen was considered a sundown town, which has had ongoing effects with regard to racial inclusion. In his lectures, Loewen brings a challenging message to bear on local issues—past, present and future.
See also – "Portrait of a Sundown Town: Goshen, Indiana" by Dan Shenk, Goshen Commons blog, Jan. 29, 2014
Loewen taught race relations for 20 years at the University of Vermont and also taught at Tougaloo College, Mississippi. He was the recipient of the first annual Spivack Award of the American Sociological Association for "sociological research applied to the field of intergroup relations" and the Oliver Cromwell Cox Award for Distinguished Anti-Racist Scholarship. He is also Distinguished Lecturer for the Organization of American Historians, Visiting Professor of Sociology at Catholic University in Washington, DC, and Visiting Professor of African-American Studies at the University of Illinois in Urbana/Champaign.
Loewen will give three free presentations in Elkhart County on March 1-2, including at St. James AME Church and Mennonite Church USA in Elkhart.
Public lecture schedule:
Sunday, March 1, 7–8:30 p.m. at St. James AME Church, 122 Martin Luther King Dr., Elkhart.
"Lies My Teacher Taught Me About Race Relations—and How to Get Past Them"
Monday, March 2, noon–1 p.m., at Mennonite Church USA, 3145 Benham Ave., Elkhart.
"Moving from Unracist to Anti-Racist: What Individuals and Congregations Can Do"
Monday, March 2, 7–8:30 p.m. at Goshen College Church-Chapel.
"The Most Important Era You Never Heard Of and Why It's Still Important Today"