Goshen College launches community English language classes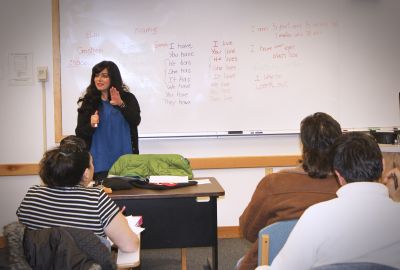 *** Check out the latest schedule for adult English classes at goshen.edu/esl ***
In a new effort by Goshen College's Center for Intercultural and International Education (CIIE), the college has begun offering English language classes for community members.
This month, CIIE launched two basic English classes and one advanced English class. The classes will take place on Monday and Wednesday evenings during the course of six weeks.
"The classes will provide a space for community members to obtain necessary language skills that will further integrate them in community," said Gilberto Perez, senior director of intercultural development and education partnerships.
Classes cost $100 per six-week session, and $50 for each additional family member. Classes are open to anyone who wants to improve their English language skills.
"The people attending these classes are parents of students attending local community schools, some are factory workers and some are clerical assistants in some local organizations," said Rocio Diaz, outreach community coordinator at the college. "Some of them have been in this country for many years, and few of them are newcomers."
For more information or to sign up, contact Rocio Diaz at srociod@goshen.edu.