National, state radio awards keep rolling in for GC students and alumni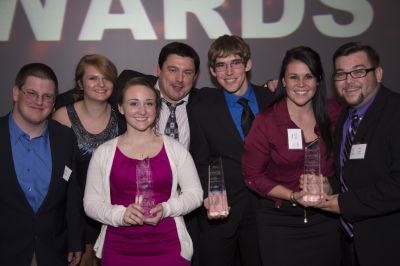 Goshen College radio students won first place in two categories and were named finalists in three other in the College Broadcasters, Inc. (CBI) National Student Radio Production Awards last weekend in Seattle. In addition, 91.1 FM The Globe (WGCS) was also named a Spectrum Award finalist by the Indiana Broadcasters Association (IBA) for Station of the Year and Best Promotional Campaign last week.
For the CBI National Student Radio Production Awards, which recognize the best in student radio production across the nation, The Globe led the pack, garnering more finalists than any of the other 25 colleges and universities in the competition. Goshen College is one of only three schools to claim multiple awards.
Goshen College students won first place for Best News Reporting with "Blood Drive," featuring Danielle Kerschhackl, a senior broadcasting and American Sign Language double major from Elmwood Park, Illinois.
The Globe also earned first place for Best Newscast with "Globe News," featuring Danielle Kerschhackl, Maria Bischoff, a junior communication and broadcasting double major from San Diego, California, Brett Steward, a sophomore broadcasting major from Mansfield, Ohio, and Andrew Witkowski, 2014 graduate with a degree in broadcasting.
Other finalists from Goshen College included:
Best Promo: "Keeping Things Fresh," featuring Ashlee Davenport, a junior broadcasting major from Plymouth, Indiana.
Best Documentary/Public Affairs: "Vinyl Revival," featuring Danielle Kerschhackl and Ashlee Davenport.
Best DJ: "Ashlee Evans Air Check," featuring Ashley Davenport.
Spectrum Awards
The Globe was also named a finalist in the Indiana Broadcaster's Association (IBA) Station of the Year category for the second year in a row, in addition to being a finalist in the Best Promotional Campaign category. As a designated station within the South Bend radio market, WGCS is judged against the work of all member stations in Market Two (Evansville, Fort Wayne, Lafayette, Muncie, South Bend and Terre Haute), regardless of size or FCC licensure.
Additionally, two Goshen College graduates were named finalists for IBA Spectrum Awards. Jimmy Cassoday, a 2013 graduate, is a finalist in the Best On Air Promotional Announcement category for his station, WCOE out of La Porte, Indiana. Zach Miller, a 2008 graduate, earned five spots as a finalist in the categories of Breaking News Story, Best Radio Commercial, Best On Air Promotional Announcement and Best Promotional Campaign for two stations, WTRC (Truth Radio) and WBYT, both out of Elkhart.
"This is no small feat from a very small college," said Jason Samuel, WGCS general manager. "It's not nearly as easy as some may think it is. It feels good to see our students and graduates doing so well."
Among The Globe's other accolades are the Intercollegiate Broadcasting System's (IBS) "Best College Station in the Nation" award in 2011 and 2013, the first college or university to repeat in that category. In 2012, WGCS was runner up for "Best College Station in the Nation." Goshen College was also named Indiana Radio School of the Year in 2012, 2013 and 2014 by the Indiana Association of School Broadcasting (IASB).
WGCS has been on the air since 1958 and is staffed by about 40 student workers and community volunteers. It is one of the college's most popular co-curricular activities, preparing students to become broadcast professionals while providing a service to the Michiana community.
College Broadcasters, Inc. represents students involved in radio, television, webcasting and other related media ventures; ensures a commitment to education and the student pursuit of excellence through active involvement in electronic media; promotes cooperative efforts between the association and other national, regional and state media organizations; facilitates the discussion of issues related to student-operated electronic media; and other community oriented programs.