2014 Fischoff Competition winners, the Telegraph Quartet, to perform at Goshen College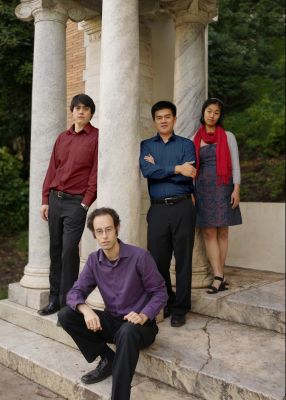 Event: Rieth Chamber Series: Telegraph Quartet
Date: Sunday, Oct. 5, 2014, 4 p.m.
Location: Music Center's Rieth Recital Hall
Tickets: $15 general admission. Students free with valid ID. Tickets available online at goshen.edu/tickets or (574) 535-7566
The Telegraph Quartet, a young rising string quartet based in the San Francisco Bay area, will perform a chamber music recital in the Goshen College Music Center's Rieth Recital Hall on Sunday, Oct. 5, 2014. The recital, part of the 2014-15 Rieth Chamber Series, will begin at 4 p.m.
Their program will include Joseph Haydn's String Quartet Op. 76 No. 5, Leon Kirchner's Quartet No. 1, Anton Webern's Fünf Sätze Op. 5, and Mendelssohn's String Quartet Op. 44 No. 1.
General admission tickets are $15, available online at goshen.edu/tickets or (574) 535-7566. Goshen College students are free with ID.
The Telegraph Quartet consists of violinists Eric Chin and Joseph Maile, violist Pei-Ling Lin, and Jeremiah Shaw on cello. The group was formed in September 2013 and soon after became the first San Francisco-based ensemble ever to win the prestigious grand prize in the international Fischoff Chamber Music Competition at Notre Dame. The quartet was selected to be one of the Shouse Ensembles at the Great Lakes Music Festival, directed by Paul Katz, for the summer of 2014.
The members of the quartet are graduates of top conservatories and universities including The Juilliard School, The Cleveland Institute of Music, Rice University and San Francisco Conservatory of Music.
The Rieth Chamber Series features six concerts by outstanding organists and chamber music ensembles including the Telegraph Quartet, Spektral Quartet, and St. Alban's Organ Competition winner Simon Thomas Jacobs, plus a bonus concert with reception for series subscribers only. Music Center Executive Director Marcia Yost explains that series supporters "will provide support for ongoing, accessible classical chamber music at Goshen College, as well as aid in establishing a reputation with performing artists for appreciative Music Center audiences." More information about this series is online at gcmusiccenter.org/concerts/riethseries.