Goshen College Homecoming Weekend, Oct. 3-5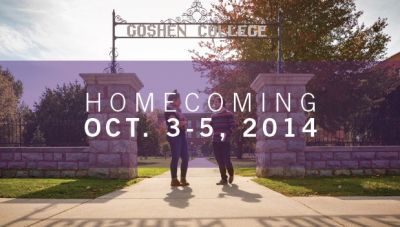 Goshen College alumni and friends are warmly invited back to campus for Homecoming Weekend, Oct. 3-5. In addition to reuniting with classmates, highlights of the weekend include alumni awards, a music gala, a hymn sing, an art exhibit, kids' activities, an alumni bike ride, alumni author book signings, campus tours, a Frisbee tournament, soccer game and the world premiere for two peace plays.
The following is a schedule for Homecoming Weekend events, which are free unless otherwise noted.
Friday, Oct. 3
10 a.m., Homecoming convocation and 2014 Culture for Service, Young Alumni Servant Leadership, and Champions of Character award presentation, Church-Chapel
Sponsored by the Goshen College Alumni Board, the 2014 Culture for Service Awards will be presented to Esther Lehman Kawira '74, of Shirati, Tanzania, and Ray Funk '69, of Prince Albert, Saskatchewan. The 2014 Young Alumni Servant Leadership Award will be presented to Malinda Berry '96, of Elkhart, Ind. The 2014 Dr. Ruth Gunden Champion of Character Award will go to Mandy Yoder '99 of Goshen, and the Dr. Roman Gingerich Champion of Character Award will go to Kenneth Edwards, Sr '81, of Morristown, N.J.
10:45 a.m., Reception for award recipients, Church-Chapel Fellowship Hall
1 p.m., Alumni bike ride, meet at Abshire Park, Goshen
Ride Goshen's Pumpkinvine Trail with other alumni. Choose rides from a few miles up to 35 miles. For details, please contact Keith Miller at kamiller@maplenet.net.
4 – 7:30 p.m., Class of 1964 – 50th anniversary banquet, Greencroft, Senior Center
Cost: $25. Registration required.
5 – 10 p.m., First Friday activities, downtown Goshen
Stroll the streets of downtown Goshen and visit shops, restaurants and art galleries. Listen and swing dance to GC's Lavender Jazz Band.
8 – 9 p.m., Peace Plays, Umble Center
See the 2014 Goshen Peace Play Contest winners.
Cost: $5
Saturday, Oct. 4
8 – 9:30 a.m., Alumni breakfast, Church-Chapel Fellowship Hall
All alumni are invited to start the day with a buffet breakfast, a warm Goshen College welcome from President Jim Brenneman and some words from alumni award recipients. Buffet is open 7:45 – 8:30 a.m. Program begins at 8:30.
Cost: $13. Registration required.
9:30 – 11:45 a.m., K-6th grade activities, Recreation-Fitness Center, Room 106
A variety of age-appropriate activities are planned. Includes snack. Please pick up your children at 11:45 a.m.
Cost: $10 per child. Registration required.
10 – 11:30 a.m., Middle & high school students, Java Junction
Chill, chat and chai with GC students. Admission staff available and tours offered.
9:45 – 11:45 a.m., Class reunions, various locations around campus
Classes of 1944, 1949, 1954, 1959, 1964, 1969, 1974, 1979, 1984, 1989, 1994, 1999 and 2004 will have class reunions.
12 – 2 p.m., Biological sciences luncheon, Newcomer Center, Room 19
All alumni from the department of biological sciences are welcome. Guest speaker is Daniel Lemons '74, Ph.D., CEO of GEM Institute and professor of biology at the City University of New York. Tours of the AlgaeTown project will take place following the lunch.
Cost: $15. Registration required.
1 p.m., Champions of Character reception, Rec-Fitness Center, Rooms 104-105
1 – 3 p.m., Ultimate Frisbee tournament, lawn in front of the Rec-Fitness Center
No cost. Alumni, students and friends are invited to play Ultimate Frisbee, whether you are an experienced or first-time player.
1:30 – 3 p.m., Book signings, Goshen College bookstore
"Ordinary Miracles: Awakening to the Holy Work of Parenting," by Rachel Gerber '00

"No Strings Attached: Boundary Lines in Pleasant Places," by Rachel Nafziger Hartzler '70

"Living Thoughtfully, Dying Well," by Glen E. Miller '57

"Welcome to Iran, Christian Encounters with Shia Muslims," by Evelyn '63 and Wallace Shellenberger '60
2 – 4 p.m., Women's soccer vs. Taylor, GC soccer field
Come cheer on the Maple Leafs women's soccer team.
2:30 – 3:30 p.m., Homecoming hymn sing, Music Center's Rieth Recital Hall
Enjoy hymn singing at its finest, led by Debra Brubaker '79, professor of music, and Scott Hochstetler '97, associate professor of music.
3 – 4:30 p.m., Open house for academic departments, Music Center lobby
Departments are represented by faculty.
4 – 5 p.m., Peace Plays, Umble Center
See the  2014 Goshen Peace Play Contest winners.
Cost: $5
5 – 6:45 p.m., Homecoming picnic, lawn by Westlawn
Everyone is welcome to enjoy a great picnic.
Cost: $14 for adults, $7 for children ages 5-12, $2 for children under 5
5 – 7 p.m., Reception: Goshen College art faculty exhibit, Music Center's Hershberger Art Gallery
An exhibition of current work by Kristi Glick '97, Randy Horst '82, Merrill Krabill '79, Leslie Miller and John Mishler '72.
7:30 – 9 p.m., Homecoming music gala, Music Center's Sauder Concert Hall
The music department presents its annual showcase of students and faculty.
Cost: $8, GC students free
Sunday, Oct. 5
Visit one of the area churches
For a complete list of local congregations, visit www.goshen.edu/cmin/worship/areachurches
2 – 3 p.m., Peace Plays, Umble Center
See the  2014 Goshen Peace Play Contest winners.
Cost: $5
For more information about Homecoming Weekend, to order event tickets or to register, call the Alumni Office at (574) 535-7565 or visit www.goshen.edu/alumni/Homecoming.