Student documentary receives national Telly Award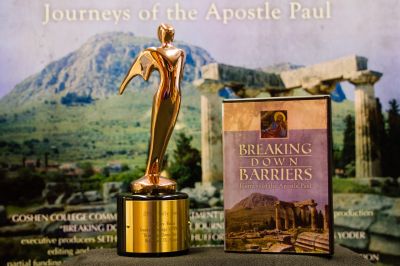 FiveCore Media and the Goshen College Communication Department received a national bronze Telly Award for "Breaking Down Barriers: Journeys of the Apostle Paul," a documentary filmed and produced by Goshen College students and faculty.
The award-winning documentary tells the story of how the Apostle Paul overcame religious, cultural and physical obstacles as a leader of the first generation of Christians, and guides viewers on the path Paul took through Greece and Rome. The 30-minute program was made into a DVD that has received worldwide distribution and a television program that has aired in the central Indiana region.
"The Journeys of Paul project allowed us to bring our students along with us onto a professional documentary production," said Seth Conley, associate professor of communication. "The value of students playing an integral role shooting, hosting and editing a video with enough quality to interest professional distributers is exciting. It's even more exciting to be recognized with a Telly Award for that work."
The Telly Awards is a national competition designed to honor outstanding local, regional and cable television commercials and programs, as well as the finest video and film productions, and work created for the web. The Telly Awards receive approximately 13,000 submissions nationwide each year.
Winning a Telly Award is an incredibly high distinction for the Goshen College Communication Department and FiveCore Media, as the students involved in producing the documentary are recognized for their excellence among industry professionals.
"Having the opportunity to take lessons from the classroom and apply them in a real world context is what this project was all about," said Kyle Hufford, assistant professor of communication and FiveCore Media general manager. "I am extremely proud of our students and their quality of work. This award means a lot for these students who are just starting out in their careers and now have something substantial to put on their resumes."
In May 2012, Conley and Hufford led a team of nine students through Greece and Rome for three weeks to tell Paul's story, visiting historical biblical sites including Philippi, Corinth, Rome, Athens and Thessaloniki. Six more students worked on the post-production side of the documentary.
"The goal was to create a project that combined professional video opportunities with a topic related to Christian faith," said Conley.