Kyle Miller named new Youth Honors Concert Orchestra director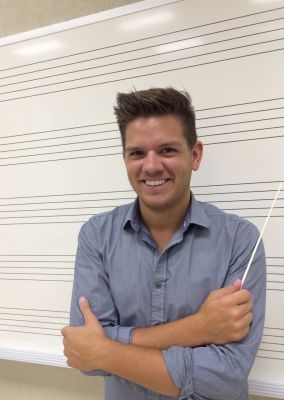 The Community School of the Arts (CSA) is pleased to announce the appointment of local music educator Kyle Miller as the new director of the Youth Honors Concert Orchestra, an area youth instrumental ensemble for Elkhart County string students in grades 7-9.
"We are delighted with Kyle's interest and experience in community music-making and look forward to the enthusiasm and unique skills he brings to our Youth Honors Orchestra team," said Debra Kauffman, CSA director.
Born and raised in Indianapolis, Miller studied at Indiana State University where he received his bachelor's degree in music education. His professional activities include working with the Crossroads of America Youth Orchestra, assisting the orchestras at Perry Meridian Middle School (Indianapolis) by giving weekly cello sectionals, and starting a fiddling ensemble at Woodrow Wilson Middle School (Terre Haute, Indiana). He actively gives private violin and cello lessons in the Elkhart area, and he is also the orchestra director at Elkhart's Pierre Moran Middle School as well as the assistant director of orchestras at Elkhart Central High School. Miller is also a member of the American String Teacher's Association and the Indiana Music Educator's Association.
The Youth Honors Orchestras consists of two string ensembles for Elkhart County string students: the Concert Orchestra for grades 7-9, and the Symphony Orchestra, conducted by YHO Artistic Director Josh Aerie, for grades 9-12. The Concert Orchestra rehearses weekly on Tuesday evenings from 7-8:15 p.m., and the Symphony Orchestra rehearses Sundays from 1:30-3:30 p.m., beginning in September. There are two annual performances held in the Goshen College Music Center's Sauder Concert Hall.
Both ensembles are open to Elkhart County string students by audition. Auditions for the 2014-15 ensembles will take place Tuesday, Sept. 2 and Wednesday, Sept. 3 from 4-6 p.m. at the Goshen College Music Center. Annual tuition is $180 with registration through the Community School of the Arts required. Financial aid is available. For more information about auditions or audition requirements, visit www.gcmusiccenter.org/yho. To schedule an audition, please call the Music Center main office at (574) 535-7361.