Nurture your professional growth through Goshen College's Lunch and Learn series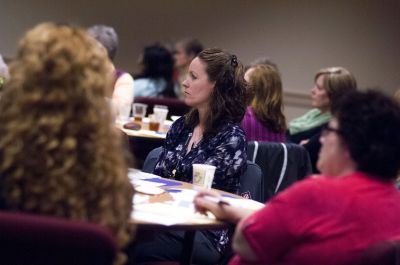 Community leaders at this year's seven-week Lunch and Learn series will present insights about cloud storage, paperless solutions, female entrepreneurs and more. The series, offered by Goshen College's Center for Business and Entrepreneurial Education, is geared toward administrative support staff looking to improve their work habits and work environment.
Seminars will be held each Tuesday from Sept. 16 to Oct. 28 from 12 to 1 p.m. Each seminar will begin with a lunch buffet at 11:45 a.m in the Goshen College Church-Chapel Fellowship Hall. The registration deadline is Sept. 4, 2014.
To register for these affordable seminars, visit mygc.goshen.edu/business/Lunch_Learn or call the Center for Business and Entrepreneurial Education at (574) 535-7451.
The 2014 Lunch and Learn lineup includes:
Sept. 16: Developing a Culture of Continuous Improvement in a Service Environment
Adam Pierson, senior program director for Continuous Improvement at the University of Notre Dame
Have you heard of "process improvement," "Lean," or "Six Sigma?" Do you think these concepts are only applicable in a manufacturing environment? Learn how the University of Notre Dame is incorporating a culture of continuous improvement to increase the efficiency and effectiveness of its administrative processes.
Pierson trains staff to follow a continuous improvement methodology to strengthen administrative processes at Notre Dame. Pierson earned his Black Belt certification in Lean Six Sigma at Notre Dame and received his Green Belt certification at a global recreational products manufacturer.
Sept. 23: It's Never Too Late to Realize a Dream
Diane Stratton, an independent author, part-time hospital admitting secretary and former flight attendant
What could empower a small-town, middle-aged woman to become a flight attendant more than thirty years after she first applied? What inspires us to make life changes that turn our dreams into a reality? And where do we go from there? Come learn from Stratton's journey.
Stratton holds a bachelor's degree from Indiana University South Bend with concentrations in women's studies and psychology. She published her first novel, "Arrivals and Departures," in 2013.
Sept. 30: How Can Education Transform Elkhart County
Kathy Royer, program director at Horizon Education Alliance
Royer will tell the story of how diverse Elkhart County communities and sectors have come together to respond to the economic challenges that faced the county in 2008. Horizon Education Alliance (HEA) was formed to spur innovation, secure collaboration and transform Elkhart County through education. Learn how this vision is becoming reality through projects and collective action that HEA has initiated.
Royer has worked as an educator and a social worker. In 2006, she was employed by Learning Generation Initiative, where she became executive director in 2009. Previously, she was the director of community partnerships and service learning at Notre Dame's Center for Social Concerns.
Oct. 7: Project and Document Management: Is Paperless Possible?
Adela Hufford, director of enrollment operations at Goshen College
Do you manage projects or documents? Wondering how to stay on top of all those papers? Learn what paperless solutions Hufford uses to keep herself organized at home and in the workplace.
Hufford has worked in higher education for 15 years. Prior to her work in college admissions, she assisted campus departments by analyzing business processes and offering solutions like digital document management.
Oct. 14: Advance Directive Planning and End-of-Life Care Choices
Sister Nora Frost, spiritual care coordinator and chaplain at Indiana University Health Goshen Hospital
The presentation will include a brief overview of the living will, health care power of attorney, out-of-hospital DNR and POST (Physician Orders For Scope of Treatment) documents. Frost will also discuss some of the myths that keep individuals from completing these documents prior to a health care crisis.
Frost is a board certified chaplain in the Association of Professional Chaplains. She teaches Goshen College nursing classes that focus on death, dying, grief, loss, ethics and end-of-life issues.
Oct. 21: Cloud Services: Manage Files and Work Collaboratively Using Google Drive and Apps
Patricia Goodman, assistant director of IT services and support at Goshen College
Use Google Drive cloud storage to securely manage your files from anywhere. With Google Apps, you can create documents, spreadsheets and presentations on multiple devices, and then share these files with others to work collaboratively.
A member of Goshen College IT Services since 1994, Goodman is responsible for the operational functions of the IT department, including project management and the services provided to campus.
Oct. 28: Women Entrepreneurs' Stories and Challenges: A Panel Discussion
Michele Fanfair-Steury, Denise Goveia, Melissa Kinsey and Shelley Moore
What is it like to start and maintain your own business? Do women face different challenges than men? Attendees will hear local entrepreneurs share their experiences with starting and managing a small business. A Q&A session will follow the discussion.
Michele Fanfair-Steury is the owner and founder of Gift of Gab, an alternative boutique in downtown Goshen. She loves creating one-of-a-kind items and has a passion for encouraging others to step outside the box.
Denise Goveia owns an online sales business and works as a computer and resumé consultant. Currently the state president of the International Association of Administrative Professionals, she often presents on business-related topics.
Melissa Kinsey is an entrepreneur, environmentalist and educator. She serves as environmental educator for Camp Friedenswald on Shavehead Lake in Cassopolis, Michigan, and she teaches in Goshen College's agroecology program. Kinsey is the founder and director of KIVA Group, a business marketing and consulting firm with clients nationwide.
Shelley Moore founded Insight Strategic Concepts Inc. in 1999 and currently serves as their CEO and lead strategist. Insight is a strategic growth firm serving progressive business owners of small and mid-sized businesses. Moore is also the owner, architect and visionary of BLOOM Success Solutions LLC, an online performance management company.
– By Kate Yoder