Goshen College named to list of affordable colleges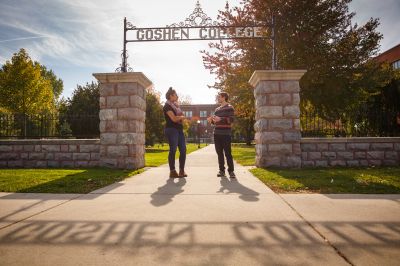 Goshen College was ranked 22nd for best value among private colleges in the Midwest, according to a recent list by Great Value Colleges.
In addition to having a low net cost—tuition minus average financial aid—GC ranked highly for the "depth and breadth" of a student's experience.
"Once again, Goshen College's success is recognized by an external audience," said James Townsend, vice president for enrollment management and marketing at Goshen College. "We're proud to be included in such a strong list of higher education institutions."
Great Value Colleges is a website that aims to help students get the best value for their college degree. For their list of "50 Great Affordable Colleges in the Midwest," they examined the college investment from many angles: affordability, graduation rate, freshmen retention rate, student-to-faculty ratio, average ACT score, percentage of classes taught by grad assistants, number of campus organizations and number of academic programs.
"On all of the indicators we assessed," the website reads, "Goshen scores the highest marks in the graduation rate and freshman retention rate categories, which are 70 percent and 85 percent, respectively—definitely higher than average!"
Great Value Colleges also highlighted GC's student-to-faculty ratio, its expansive arts program and its thriving campus life.
GC's net cost of $19,733 earned it a coveted spot on this list of affordable colleges, which was compiled using data from Forbes, U.S. News & World Report and Princeton Review.
"It is our desire that Goshen College be affordable and accessible while remaining highly academic," Townsend said.
— By Kate Yoder