United Way supports Write on Sports camp at Goshen College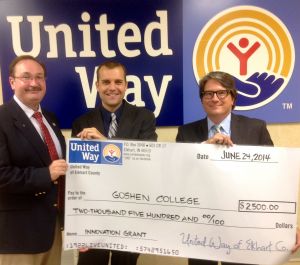 United Way of Elkhart County provided a $2,500 Innovation Grant in support of the two-week Write on Sports camp for middle-school students this summer. 
The Write on Sports camp at Goshen College included interviews with journalists from The Goshen News, The Elkhart Truth and WNDU-TV; and with athletes like Errick McCollum, a Goshen College graduate who played for the Denver Nuggets team in the NBA's Las Vegas Summer League before being recently signed by Chinese professional team Zhejiang Chouzhou Bank.
Twenty students participated in the second annual Write on Sports Goshen camp, double the number of campers who enrolled in 2013.
The Goshen camp is an affiliate of Write on Sports, an organization in its ninth year of operation in New Jersey, under the direction of founder Byron Yake, a 1961 graduate of Goshen College and former national sports editor and executive with the Associated Press.
United Way's Innovation Grants are intended to assist in developing creative ways to address key issues within the areas of education, income and health.