Student helps Goshen College go 'idle free'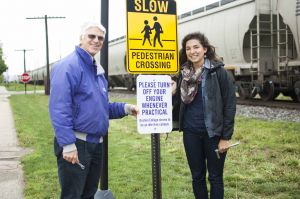 A Goshen College student's efforts to make the Goshen College campus an "idle free" zone were realized last week.
Gretchen Geyer, a senior social work major from Parnell, Iowa, came up with the idea a year ago in a social work class.
"We were supposed to do an advocacy project that benefitted a group of people, and I chose to do an environmental project that could benefit everyone," Geyer said. "One of the really practical ways to improve our air is to turn off our cars when we're not driving." 
The signs, which were put up on campus last week, read: "Please turn off your engine whenever practical. Goshen College strives to be an idle-free campus." The signs will complement City of Goshen idle-free signs, which are posted at railroad track crossing nearby.
Geyer, who is also a student representative on the Ecological Stewardship Committee, which covered the costs of the signage, said the signs will be placed on certain parts of campus where idling vehicles are most common, such as outside the dining hall where food trucks unload, at the Music Center and at the Recreation-Fitness Center.
"For some stakeholders, it was unclear whether this would make a difference," Geyer said. "We're starting with just having the signs to suggest that people turn off their engines. It's a way to get peoples' brains thinking that way and hopefully they'll get in the habit of it."
Goshen College was recently awarded a STARS silver rating from the Association for the Advancement for Sustainability in Higher Education (AASHE). The rating reflects a campus-wide commitment to reducing the carbon footprint, led by the Ecological Stewardship Committee. The college is one of only seven colleges and universities in Indiana to have earned a STARS silver or gold rating.
Between 2008 and 2013, the campus reduced its carbon footprint by an estimated 22 percent. In the spring of 2013, the college took the further step of purchasing 100 percent of its electricity from renewable sources through the procurement of renewable energy credits. The campus has also converted nearly 20 percent of its lawn space to native plants and prairie restoration. Goshen College students and staff have developed a food composting system, planted a community garden, built a solar hot water collection system and continued to reduce energy consumption campus-wide.
Read about more of Goshen College's sustainability efforts at goshen.edu/gogreen