Goshen camp combines sports and writing in 'winning partnership'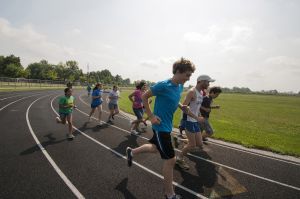 Write on Sports, which one Goshen seventh-grader described as the "best camp ever," is accepting applications from students who will be entering seventh and eighth grades.
The second annual Write on Sports camp will be held at Goshen College from July 7 through 18.
During the camp, students will interview athletes, including Justin Gillette, a Goshen marathoner who is ranked fifth in the world in total victories, and Gaby Romo, an all-state soccer player for Goshen High School who now plays for Indiana University/Purdue University at Fort Wayne.
Students will also learn interviewing techniques from journalists with The Goshen News and The Elkhart Truth.
Field trips include a visit to Notre Dame University, WNDU-TV studios, and a South Bend Silver Hawks game, where students will have a chance to interview team members before the game.
Students will write sports stories and create videos during the two weeks; their work will be published online at www.goshen.edu/writeonsports and in a camp magazine.
The camp is free, with scholarships made possible by the Elkhart County Community Foundation, the Maple Leaf Athletic Club, MutualBank, the Windward Foundation and other donors. Lunch will be provided each day.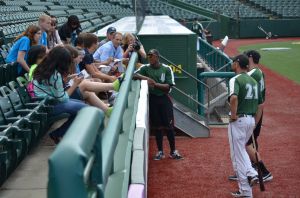 For more information or to apply, call (574) 535-7881 or write to events@goshen.edu. The Goshen camp is a partnership of Goshen College and Goshen Community Schools and is an extension of the Write on Sports organization, based in New Jersey. Students who live in other school districts are also invited to apply.
Byron Yake, a former national sports editor with The Associated Press and a 1971 Goshen College graduate, established the program in 2006. The Goshen camp was the first Write on Sports camp launched outside of New Jersey.
In this second year, the Goshen camp is expected to serve twice as many students as in 2013. Several scholarships remain to be awarded, on a first-come-first-served basis.
"We're so pleased that all of the first-year campers who were eligible to return to camp have applied for a second summer," said Duane Stoltzfus, a Goshen College communication professor who is directing the Goshen camp. "In doing so, they become our best ambassadors in making the case that sports and writing form a winning partnership."