CSA Youth Choirs to hold open auditions for new members, Sunday, May 18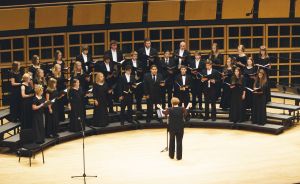 Three Community School of the Arts youth choirs will hold open auditions for new members in rising grades 3-12 on Sunday, May 18 from 2-4 p.m. in the Goshen College Music Center.
Auditions will be held for three choirs: Rejoice (rising grades 3-5), directed by Kristin Kauffman; Shout for Joy (rising grades 6-8), directed by Sandy Hill; and Sommo Voci (rising grades 9-12, formerly the High School Honors Choir), directed by Marcia Yost.
Auditions are open by audition to all interested singers, and are "walk-in" with no prior appointment needed. Auditions are 10-15 minutes in length. Students in grades 3-5 may audition with no advance preparation needed; students auditioning in grades 6-8 may opt to bring a song of their choice to sing at their audition. Students auditioning for Sommo Voci are asked to prepare and bring a song for their audition, and will be asked to sight-read a piece of music. Students will be notified of results on Monday, May 19.
Registration through the Community School of the Arts is required for those accepted into the ensembles. Regular tuition is $180, divided into two semester installments of $90 each, plus CSA registration fee. Early registration discounts are available for those who register before July 1. Financial aid is also available to families with need. Registration information for choirs will be available at the auditions.
The CSA youth choirs rehearse weekly on Thursday evenings (Rejoice and Shout for Joy choirs) and Sunday afternoons (Sommo Voci) in the Goshen College Music Center. The choirs perform in Sauder Concert Hall in the fall and spring, and on occasion in other venues at the discretion of the director.
For more information, please contact the Goshen College Music Center Main Office at (574) 535-7361 or visit www.gcmusiccenter.org/csa-choirs