Goshen Music Together program to host family sing-along events with special guest "Uncle Gerry" Dignan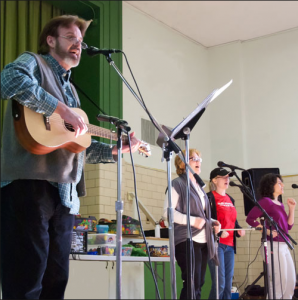 Concert: Music Together sing-along featuring "Uncle Gerry" Dignan
Date and time: Saturday, May 17, 2014, 9:30 and 11 a.m.
Location: Goshen College Music Center's Rieth Recital Hall
Cost: Free for all families
On Saturday, May 17, Goshen College will host two family sing-alongs planned especially for young children (birth–age eight) and their families. Families may choose to attend either of these identical free events at 9:30 or 11 a.m. in the GC Music Center's Rieth Recital Hall.
The concert will feature Goshen Music Together® teachers singing favorite Music Together songs, and a special guest appearance by recording artist Gerry Dignan, better known as "Uncle Gerry" on the CDs given to the thousands of families worldwide who take Music Together classes.
"We are honored to welcome Gerry to Goshen to sing and dance with us," said Deb Kauffman, director of the Goshen Music Together program. "All families who have been in Music Together classes will be very excited to hear Uncle Gerry's familiar voice, and all community families are invited to come and participate in this fun morning of music."
Music Together is an internationally recognized early childhood music and movement curriculum for children between birth and grade two and the adults who love them. Originally offered to the public in 1987, it pioneered the concept of a research-based, developmentally appropriate early childhood music curriculum that strongly emphasizes and facilitates adult involvement.
According to Kenneth K. Guilmartin, founder and director of Music Together, "All children have the ability, from birth, to learn music. At Music Together, we introduce children to the pleasures of actively making music, which is critical for their music development. Many parents may not realize that they are their child's most important music teachers—even if they don't consider themselves musical. It is not important that caregivers sing or move perfectly; what matters is that they model the enjoyment of making music. We have been providing families with the tools to joyfully and enthusiastically make music together for 25 years and are proud to have impacted so many lives."
In addition to recording for Music Together, Dignan has worked and recorded with Grammy-nominated cellist David Darling and has contributed to the work of Music for People, an organization dedicated to self-expression through improvisational music. Dignan was also a seven-year member of the world-renowned Chicago Symphony Chorus and traveled with the chorus and the Chicago Symphony Orchestra to perform at the Concerthalle in Berlin and Carnegie Hall in New York City.
Music Together classes are held in more than 2,000 communities around the world. Classes are offered in Goshen and Elkhart through Goshen College Community School of the Arts. For more information, please visit www.gcmusiccenter.org/musictogether.