Spektral Quartet and Julien Labro return to Goshen to unveil new album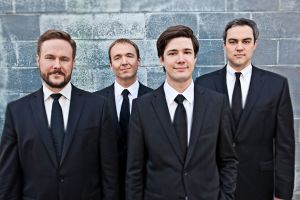 Concert: Rieth Chamber Series: Spektral Quartet and Julien Labro: "From This Point Forward" album release concert
Date and time: Saturday, May 17, 2014, 7:30 p.m.
Location: Goshen College Music Center's Sauder Concert Hall
Cost: $15 general admission
Spektral Quartet, one of the nation's fastest-rising young string quartets and ensemble-in-residence at the University of Chicago, returns to Goshen with accordion and bandoneon phenom Julien Labro, playing a fun and fiery program of South American jazz and tangos. The concert is set for Saturday, May 17 at 7:30 p.m. in the Music Center's Sauder Concert Hall.
With this performance, Spektral Quartet and Labro unveil their vivid debut album from Azica Records, "From This Point Forward." Through it, Labro and Spektral Quartet set out to amplify and extend the string quartet and bandoneon repertoire beyond the beloved canon of Astor Piazzolla, and it is difficult to think of a more beautiful acoustic than Goshen College's Sauder Concert Hall for this launch.
Spektral violinist Austin Wulliman, a Goshen native, received musical training as a youth in the Goshen College Strings Preparatory Program, a forerunner of what is now the Community School of the Arts.
Labro and Spektral Quartet began their collaboration after being serendipitously paired for Northwestern University's Big Squeeze accordion summit. With Piazzolla as their point of departure, the group immediately began sleuthing for more recent scores. Crafting many of the arrangements himself, Labro moved across the Argentine borders, embracing the progressive voices of Hermeto Pascoal (called the Brazilian Frank Zappa) and Miguel Zenón, who appears as guest soloist on the album.
"Jazz," "contemporary classical" or "tango" are genre labels far too cramped to encapsulate the music of Argentine composer/pianist Fernando Otero, whose "De Ahora En Más" is featured on the record. Breathless fugues, opaque chord clusters and circular grooves here have a tincture of tango, but the language has evolved into something much more risky. Also hailing from Buenos Aires, composer/pianist Diego Schissi has similarly transformed the tango vernacular with tunes like the irrepressible "Líquido 5." Perhaps it can best be summed up in the composer's own words, in email correspondence with Labro and the quartet: "It is display of Full Power, a forceful demonstration of energy…edgy and a bit uncontrolled."
Tickets are $15 general admission, available through the Goshen College Welcome Center at (574) 535-7566 or welcomecenter@goshen.edu.