Putting Goshen on the music map: Steve Martin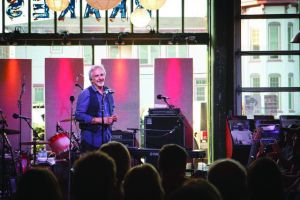 Ignition Garage ownerSteve Martin '76 believes in listening to music "the way it was intended to be heard."
So in 2012 he converted an old auto garage in downtown Goshen and stocked it with thousands of new and used CDs and vinyl LPs, a broadcasting booth for Goshen College's radio station, WGCS 91.1 The Globe, and a stage for artists to perform live music.
Two years later, Ignition Garage and The Globe continue to bring high quality music to Goshen.
"By providing a single location for retail, radio and live performances, touring artists will visit and connect with fans," said Martin on the Ignition website. "We get to see and hear some of the best emerging artists that are being played regularly on The Globe. Artists get a chance to perform, build a fan base for their music and sell merchandise directly."
Ignition Garage is successful because people crave the warmth of a record and the intimacy of a small concert venue, said Martin.
He acknowledged that digital music is more convenient than records, "but so is fast food," he said, equating vinyl to the slow food movement. "Sit back. Savor it. Take it as a time to unplug."
– By Ariel Ropp '13