The muse behind the monster: Sarah Elizabeth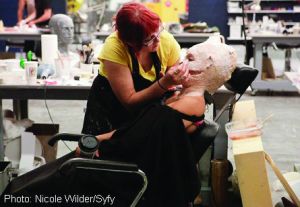 Aliens, pirates and cyborgs are not folks most of us would expect to see on a typical workday, but Sarah Elizabeth Miller '05 would. 
A professional makeup artist, Miller gained national attention while competing on the third season of SyFy Network's "Face Off," a popular reality show that features special-effects makeup artists competing to create characters like those seen in science fiction and horror films.
"It was like a super boot camp for making awesome creatures," said Miller, who competed against 11 other artists.
Though she did not win the competition, Miller loved the experience of being immersed in makeup design for nearly two months.
"As insane as the stress of coming up with something and fully realizing it within a 23 hour time frame…it was amazing to see what we were able to do when pushed so hard," Miller said.
A Goshen native, Miller got her start in theater makeup at Bethany Christian Schools. While at GC, Sarah was active with the theater program and later headed to Chicago to pursue professional costume, prop and set design for five years. It was there that she made the career-changing decision to attend Vancouver Film School's makeup design program. Since then, she has done makeup for a variety of TV shows and films, including programs on the Hallmark and Disney channels.
– By Ariel Ropp '13