Beyond the Science Hall: Goshen College excels at preparing students for doctoral degrees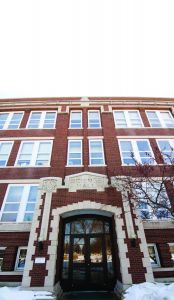 When it comes to earning a doctoral degree, Goshen College students have an advantage. At GC, students have more opportunities for undergraduate research, have smaller classes and build relationships with top-notch professors both in and out of the classroom.
In fact, among both public and private Indiana institutions, Goshen College ranks second in the number of graduates who go on to earn doctorates when institutional size (enrollment) is taken into account. Nationally, GC ranks 87th out of 262 baccalaureate institutions. Among Mennonite institutions, GC leads the pack with twice as many students earning doctorates than any other institution. In the last 50 years, more than half of the students who have earned doctoral degrees earned them in the sciences. We'd like to introduce you to a few of them.
*Data is from the National Science Foundation's Survey of Earned Doctorates. Data include doctorates earned between 1990-2010 by graduates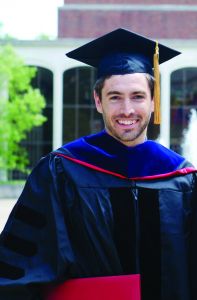 GREG KOOP '06
Syracuse, N.Y.
B.A., Goshen College, psychology and history
M.A., Ph.D., Miami (Ohio) University, psychology
A postdoctoral researcher in the Memory Modeling Lab at Syracuse University, Greg Koop has delved deeply into the field of memory and decision making. The decision to study psychology didn't come easily for Greg, but as they say, the apple doesn't fall far from the tree. Greg's father, Vic Koop, taught psychology at Goshen College for 27 years, retiring in 2009.
When did you know that you wanted to pursue the highest level of education?
"Following college I completed a year with Mennonite Voluntary Service. I was fairly certain that I would not end up in psychology. However, I soon came to miss the empirical, scientific perspective that had characterized the psychology department at Goshen. The projects I proposed at my service location all utilized the skills I learned as a psychology major, which I took as an indication that work in psychology was really something I wanted to do for a career."
How did Goshen College prepare you for your current work?
"When I first arrived in graduate school I was fairly intimidated by the pedigree of some of my classmates, but I soon realized that the breadth of knowledge I gained at Goshen was at least comparable to that of my classmates from large research institutions. My liberal arts background made me thoroughly prepared for graduate work in psychology. The time and attention given to students by the faculty at Goshen is truly a unique opportunity for undergraduates, and it is fantastic preparation for the close advisor-advisee relationship in graduate school."
What is a piece of advice you would give to someone who is heading into your field?
"Some of the best advice I received before applying to graduate school was that I had to have "fire in the belly" about my chosen discipline. Graduate school in any area is a lot of hard work with delayed gratification, so undertaking such an endeavor is almost impossible without some passion for the field."
SAM GAMEDA '75
Addis Ababa, Ethiopia
B.A., Goshen College, physics
B.A., M.A., Ph.D., McGill University, agricultural engineering
A senior research fellow with the International Food Policy Research Institute (IFPRI), Sam Gameda works with the Ethiopian Agricultural Transformation Agency (ATA) to direct its Soil Health and Fertility Program. He's been in Ethiopia for the past two and a half years, helping find sustainable solutions to end hunger and poverty.
What gives you the most satisfaction in your work?
"Through our soil mapping process we were able to identify nutrient deficiencies, which are changing the way we use fertilizers in Ethiopia. This is already showing tremendous promise for small farmers, increasing crop yields in some cases by more than 50 percent over current practices."
How did Goshen College prepare you for your current work?
"I value the education I got at Goshen College – I think everyone should have a liberal arts education. Goshen taught me to think critically. Goshen embraced both education and training as important aspects to build in its students."
What is a piece of advice you would give to someone who is heading into your field?
"The challenges that we'll be facing in the coming years and decades will be daunting. One of the areas that will be of great concern, particularly in the developing world, is the challenge of food security, particularly in the context of climate change. This will be even more challenging as it cuts across many regions and countries, requiring inter-regional and international actions. I hope there are Goshen students who are ready to take on these challenges, and to commit to the learning, as well as time, energy and patience needed to successfully address them."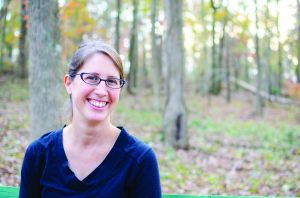 ABBIE GASCHO LANDIS '99
Athens, Ga.
B.A., Goshen College, biology and English
Doctor of Veterinary Medicine, The Ohio State University
An emergency veterinarian, Abbie Gascho Landis provides medical care for a range of pets. Her patients include sick or injured dogs and cats, and often their worried owners too. Her work requires her whole body and mind.
What gives you the most satisfaction in your work?
"While I love solving diagnostic puzzles and delight in healing, I'm most satisfied by connecting with people at the point of their bond with an animal. My position often creates a space where people are open with me about their concerns and their lives. I try to be fully present with people and their animals, especially in the most raw moments. I believe that stories shared can be transformative."
When did you first know that you wanted to be a veterinarian?
"Ever since I was a kid nursing my sick sheep Bertha back to health, I've wanted to be a veterinarian. In high school, I was lucky enough to have several great veterinary mentors, who helped me along. I never relished science, though, until much later. At Goshen College, I majored in English because I loved it, and biology because I needed it to become a veterinarian. Somewhere in the eight years of college and veterinary school, science captured my imagination. Now I'm hooked."
What is a piece of advice you would give to someone who is heading into your field?
"Find a mentor. Pursue experiences that develop your ability to think critically and to communicate effectively and empathetically with people. Enjoy learning and engage your curiosity."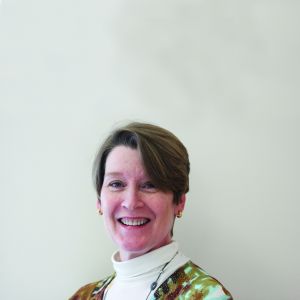 KAREN KING '87
Denver, Colo.
B.A., Goshen College, biology
Ph.D., Rush University, biochemistry
A research scientist, Karen King runs the Orthopedics Molecular Biology Laboratory at the University of Colorado, studying the musculoskeletal system, specifically degenerative joint diseases like arthritis, to develop better prevention and treatment strategies.
What are the biggest changes you've seen in your field since you started?
"The advances in the way we study genes and cells have so accelerated what we are able to do in the laboratory. I actually made and analyzed DNA sequencing gels in graduate school, and now we just ship samples off for someone else with an automated machine to sequence DNA far, far faster and cheaper. Practically, the funding for research in the United States has dropped greatly – this has and will further decelerate scientific advances in this country."
How did Goshen College prepare you for your current work?
"As a student in a liberal arts college, I was able to delay a restrictive major of study. That meant I could take more literature courses, which in turn meant a lot of writing. While science is my career, there is so much writing required in this job. I thank the English department for developing those necessary skills in me. Goshen College also encouraged me to think for myself. Independence is very important for a research scientist."
What is one way that you'd like to change the world?
"Getting others excited about solving problems in health and disease excites me. I'd like to help raise the role and authority of women in the sciences. Any chance I get, I tell young girls: "Math is important and physics is fun." Of course, this is good advice for anyone, not just girls."
ANNA LIZAMA CLARK '79
Orlando, Fla.
B.A., Goshen College, nursing
M.D., University of Illinois, Urbana-Champaign
Anna Lizama Clark's mission in life is to provide the best medical treatment possible to racially, ethnically and economically disadvantaged people. With a focus in obstetrics and gynecology, she is an active volunteer, serving people around the world and educating the public about health care issues. She recently enrolled in a Master in Public Health program at the University of South Florida.
How did Goshen College prepare you for your current work?
"When I won a scholarship to Goshen College in 1975, as the first Belizean student afforded this opportunity, I jumped at the chance. Goshen College nurtured a spirit of volunteerism and service to community that has become a part of my being. The diverse mixture of race, religion and peoples from all corners of the world confirmed my belief that access to care is a right for all."
When did you first know that you wanted to pursue the highest level of education?
"I worked as a nurse for eight years on surgical floors, in the neonatal ICU for five years, and as a nurse educator and quality manager in OB/GYN. But nursing made me yearn for higher knowledge and authority. So at age 31, I entered medical school."
What is your personal mission in your own work?
"Over the years, I have actively participated in the work process of health care through medical missions locally and globally, held leadership roles in organizations and volunteers with Doctors for America (DFA) and with Shepherds Hope, a free clinic for the uninsured. With the Central Florida Partnership on Health Disparities (CFPHD), I continue to be an advocate for the underserved."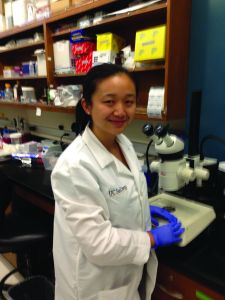 SHU TU '05
San Diego, Calif.
B.A., Goshen College, molecular biology and chemistry
M.A., Ph.D., Washington University in St. Louis School of Medicine, developmental biology
A postdoctoral research scholar at UC San Diego, Shu Tu uses the zebrafish as a model organism to study how the vertebrate heart develops and regenerates, in order to develop therapeutics for the human heart.
When did you first know that you wanted to pursue the highest level of education?
"When I was in middle school or high school, I knew I wanted to get a Ph.D. in science."
How did Goshen College prepare you for your current work?
"Goshen College provided me with a liberal arts education across different disciplines, which equipped me with communication skills to have discussions with fellow researchers in different fields. Also, I participated in the Maple Scholar undergraduate research program at GC. It gave me a taste of what it is like to be a scientific researcher, including conducting research in the laboratory, literature research, presenting one's own work and interacting with fellow researchers."
What is a piece of advice you would give to someone who is heading into your field?
"Follow your passion. Find a way to work on something that will keep you up at night and get you to go to work early just to see if it worked."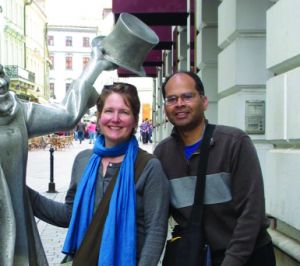 SUSAN LEHMAN '93
Millersburg, Ohio
B.A., Goshen College, physics
Ph.D., University of North Carolina Asheville, physics
D.J. MCFADDEN '92
B.A., Goshen College, biology
Master of Public Health, University of North Carolina Asheville, epidemiology
M.D., Duke University
D.J. McFadden and Susan Lehman, a husband-and-wife duo, met at GC, got married and went on to earn their doctoral degrees together. D.J. is the health commissioner for Holmes County (Ohio), and Susan is a professor of physics at the College of Wooster.
When did you first know that you wanted to pursue the highest level of education?
D.J.: "When I was a junior or senior in high school I knew I wanted to go to medical school. However, it wasn't until I found myself asking questions about population health in medical school that I realized I wanted to pursue a degree in public health."
SUSAN: "I actually don't remember making the decision consciously. I was drawn to physics because I found the challenge of it to be rewarding. I had some research experiences at Goshen College that encouraged me to keep studying at the higher levels after completing my bachelor's degree."
How did Goshen College prepare you for your current work?
D.J.: "For me, the close relationships with our professors made the prospect of seeking higher education less intimidating. I also feel that the depth of understanding of the subjects that small class size provides helped me succeed."
SUSAN: "When we were at Goshen, we both participated in summer research as part of a consortium of colleges funded through the Pew Foundation. That opportunity helped me see what it would be like to be a physicist. Doing physics research is very different from doing physics homework, and the experience was fun. I want my students to see how much fun science is, and how different it is to do science as opposed to homework."
What is a piece of advice you would give to someone who is heading into your field?
D.J.: "Learn how to improve your communication skills and speaking skills so you can convey a message clearly. Learn how to read between the lines and understand body language. Look for the things that are not spoken."
SUSAN: "When you are focused on grades, it's too easy to lose the big picture and to miss the connections. Don't be afraid to say when you don't understand something."