Local pianist and boys and girls club bring puppets to life through music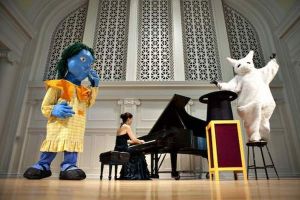 Performance: A Piano with Three Tales
Date and time: Thursday, April 24, 7 p.m.
Location: Goshen College Music Center's Sauder Concert Hall
Cost: $5 adults, $3 children; free for Community School of the Arts and Boys and Girls Club members, $2 family members
Website: www.blairthomas.org/productions/a-piano-with-three-tales
Local pianist Mary Rose Norell, along with the Music Crew from the Elkhart Boys and Girls Club, will team up with Blair Thomas Puppetry for a performance of "A Piano with Three Tales" on April 24, 2014 at 7 p.m. in Goshen College Music Center's Sauder Concert Hall. 
The Elkhart Boys and Girls Club Music Crew choir, formed this year by Community School of the Arts instructors Luke and Mary Rose Norell, will host the performance. The Music Crew will perform two songs and introduce the puppeteers. The hour-long show is geared toward audiences age 4-12 and their caregivers.
A Piano with Three Tales is a classical piano recital masquerading as a puppet show, in which young audiences will experience master piano works, including Musorgsky's Pictures at an Exhibition, Chopin's Scherzo No. 2 in B-Flat Minor and Stephen Montague's Mirabella: A Tarantella for Toy Piano.
Featuring handmade puppets from brand-new characters and narratives, this delightful family show exercises the imagination and reveals the magical power of music without words. The piano pieces will be accompanied by three vibrant, nonverbal stories on stage by Blair Thomas Puppetry, with puppets ranging from giant Japanese Bunraku dolls to human costumes.
Blair Thomas and Company is a national and international touring puppet theater company that was founded in 2002 in Chicago by puppeteer and director/designer Blair Thomas. They have made more than a dozen original puppet theater pieces, and have twice received the international UNIMA awards for excellence in the art of puppetry.