The Steel Wheels bring soulful sounds to Goshen College May 2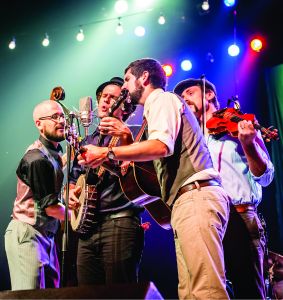 Concert: The Steel Wheels
Date and time: Friday, May 2, 2014 at 7:30 p.m.
Location: Goshen College's Umble Center
Cost: $18, $23, $28 (buy tickets online)
For more information: Call (574) 535-7566 or email welcomecenter@goshen.edu
Website: www.thesteelwheels.com
The Steel Wheels have enthralled audiences across the country with their heady brew of original, soulful mountain music for almost a decade. In a concert sponsored by 91.1 FM The Globe (WGCS), in partnership with the college's Performing Arts Series, the band will bring their innovative music to the Goshen College Umble Center on May 2 at 7:30 p.m.
This will be the first time that The Globe, the college's student-run radio station, and the Performing Arts Series will team up to bring a world-class performance to Goshen College.
"We are able to bring big artists to the college as part of the Performing Arts Series, but we don't really have a mechanism for one-off concerts like this," said Brian Mast, the Music Center's managing director. "We're able to tap into The Globe's listenership, which is huge, while using the resources that we already have in place for performances at the college. It gives us a little more freedom for concerts like this."
The Steel Wheels, based in the Blue Ridge Mountains of Virginia, blend old-time musical traditions with their own original sound. Trent Wagler's weathered tenor is joined by bell-clear four-part harmonies inspired by a shared Mennonite heritage. Add to this Eric Brubaker's lively and evocative fiddle, Brian Dickel's grounded yet buoyant upright bass, and Jay Lapp's signature mandolin style, and it's no surprise that The Steel Wheels have burst onto the Americana scene, becoming festival favorites and selling out venues across the country.
For the past three years, they have performed an annual SpokeSongs bicycle music tour, during which band members tow their instruments, equipment and merchandise from one gig to the next via bicycle, while blogging about their adventures.
To cap off the theme of getting back to their roots, the band is hosting the second annual Red Wing Roots Music Festival in the Shenandoah Valley this July. The 3-day festival will include the best of today's neo-traditional artists, and takes its name from the old tune "Red Wing," which Wagler learned from his grandfather and brought to the band with new lyrics. The song represents a commitment to roots, but also the propensity of The Steel Wheels to propel those musical traditions forward.
Tickets are $18, $23 and $28, and can be purchased online or by contacting the Welcome Center at (574) 535-7566 or welcomecenter@goshen.edu.