GC Music Center explores live streaming concerts online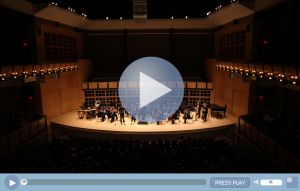 For alumni and families of students who don't live near Goshen, it can be pretty difficult to make it to concerts in the college's Music Center. Now, would-be concertgoers can watch music department concerts from the comfort of their own home.
With the help of the college's Information Technology Services (ITS) and ITS Media, the Music Center has begun live streaming select music department concerts from Sauder Concert Hall.
"In the fall semester a parent of a music student from Kansas contacted me to see if the music department had considered live-streaming its ensemble concerts, noting how much parents at a distance would appreciate this," said Beverly Lapp, professor of music and department chair. "We began looking into this and discovered it could work well, especially since we already video record these events for archival purposes."
Though the live concert stream is still in its experimental phase, three performances have been successfully broadcast and four more are lined up for this spring, including the International Student Club Coffeehouse on Saturday, March 8.
"This is a new adventure for us and we're still working out the kinks," said Brian Mast, the Music Center's managing director. "We learn new things each time, ways to make it a better experience."
So far, each concert has had at least 200 online viewers. At its peak during the Feb. 16 winter choral concert, more than 250 people connected to the service during the show. Concerns about how the college's servers will handle the high traffic have arisen, but so far there have been no major problems.
"GC is still in the testing phase of live streaming, and so our processes, and therefore user experiences, are apt to change without notice," said David Kempf, audio/visual systems specialist. "We're still trying to figure out the right combination of technology to create the most reliable environment for our viewers."
Viewers have tuned in from across the nation, as well as from countries such as Canada, Ecuador, India, Mexico, South Korea and the United Arab Emirates.
"The response has been wonderful from both parents and others from around the country and world," Lapp said.
The streaming performances will only be available during the actual concert. Because of copyright issues, the concerts will not be kept online for later viewing.
The live webcam and a list of upcoming concerts that will be streamed can be found at goshen.edu/music/livestream.