Pink Martini to perform at Goshen College March 14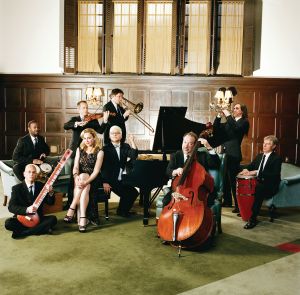 Performing Art Series Concert: Pink Martini
Date and time: Friday, March 14, 2014 at 7:30 p.m.
Location: Music Center's Sauder Concert Hall
Cost: Sold out
For more information: Call (574) 535-7566 or email welcomecenter@goshen.edu
Website: www.pinkmartini.com
The upbeat sounds of the Pink Martini orchestra will be heard in Goshen on Friday, March 14, at 7:30 p.m. for a Performing Art Series concert in the Goshen College Music Center's Sauder Concert Hall.
Since bursting onto the scene in 1997 with the jazzy album "Sympathique," this Oregon-based "little orchestra" has gained a national following with an upbeat multilingual repertoire of classical, Latin, jazz, pop and big band music. Led by pianist Thomas Lauderdale, the band has performed with more than 50 orchestras and collaborated with such artists as Rufus Wainwright, Carol Channing, Saori Yuki and the cast of Sesame Street.
Pink Martini's long-awaited follow-up to their 2009 hit album "Splendor in the Grass," released on Sept. 24, features their beloved vocalist China Forbes. 
THIS CONCERT IS SOLD OUT. For more information or to be placed on a waiting list, contact the Goshen College Welcome Center by calling (574) 535-7566, or emailing welcomecenter@goshen.edu.
Seating for those with disabilities is available.
The Goshen College Performing Arts Series debuted on Sept. 21, 1997. Since then, the college has hosted more than 100 concerts by some of the world's greatest performers as part of the program.