Goshen College's annual Conference on Religion and Science to focus on human uniqueness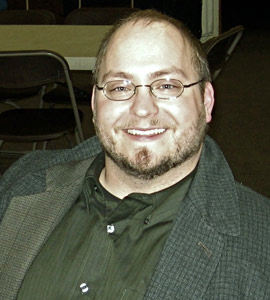 Conference: 14th annual Goshen College Conference on Religion and Science, featuring Dr. Joshua M. Moritz, Graduate Theological Union, and managing editor of the journal Theology and Science
Public lectures:  Friday, March 14 at 7:30 p.m., "Is the Bible concerned with the question of human uniqueness?" and Saturday, March 15 at 10:30 a.m., "Has science established human uniqueness?"
Location: Goshen College's Church-Chapel
Website: www.goshen.edu/religionscience/
Goshen College's 14th annual Conference on Science and Religion will be held March 14-16 and will feature speaker Joshua M. Moritz, Ph.D., lecturer of philosophical theology and the natural sciences at the Graduate Theological Union in Berkeley, Calif., adjunct professor of philosophy at the University of San Francisco and managing editor of the journal Theology and Science.
The conference's theme is "Human uniqueness and the image of God: Bridging biology and theology through the Hebrew concept of election."
Moritz will offer two public lectures: "Is the Bible concerned with the question of human uniqueness?" on Friday, March 14 at 7:30 p.m., and "Has science established human uniqueness?" on Saturday, March 15 at 10:30 a.m. Both lectures will take place in Goshen College's Church-Chapel and are free. Moritz will present a third lecture, "Created equal to the animals and yet uniquely elected as the image of God," on Sunday, March 16 at 10 a.m. for conference registrants.
Having earned undergraduate degrees in biology, the classical languages and history from Calvin College in Grand Rapids, Mich., Moritz went on to pursue graduate studies at Moravian Theological Seminary in Bethlehem, Pa. He then completed his M.A. and Ph.D. in philosophical and systematic theology at the Graduate Theological Union in Berkeley, focusing on the relationship between philosophical theology and the natural sciences.
His primary research areas include the problem of evolutionary evil, human evolution, human nature, non-human hominids and the imago Dei, astrotheology and theological understandings of non-human animals and animal mentality.
From 2011- 2012, Dr. Moritz was director of Considering God's Works (at Berkeley Covenant Church in Berkeley, Calif.), a grant program funded by the John Templeton Foundation's Scientists in Congregations Initiative, and he is currently a research consultant for the Center for Theology and the Natural Sciences and John Templeton Foundation initiative: "Scientific and Theological Understandings of Randomness in Nature."
The annual Goshen College Conference on Religion and Science is designed to provide discussion prompted by a leading thinker in the dialogue between religion and science.
A single invited speaker presents three lectures, two of which are open to the public. Small, moderated discussion sessions provide conference participants an opportunity to address topics from the lectures in conversation with the speaker.
Conference participants include pastors and laypersons, academic scientists, mathematicians, theologians and students. Registration is still open for this conference.
Carl Helrich, professor emeritus of physics at Goshen College, serves as conference director. For more information about the conference or to register, visit www.goshen.edu/religionscience.