Spring Music Together classes open for registration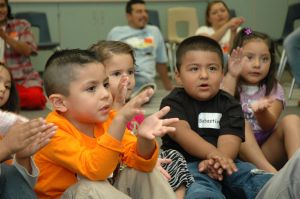 The Goshen College Music Together® program has spring classes in various locations now open for registration. The spring session begins in late March with weekly 45-minute family classes and "big kids" classes, bringing the joy of singing and benefits of music and movement to all participants. Free classes for infants up to eight months old are also available.
Music Together® is a research-based method for developing basic music competence in children. The program's philosophy is articulated by Music Together founder and director, Kenneth K. Guilmartin: "Every baby is born as a sounder and mover, equipped with the ability to make music and respond to music, just like language. Studies have shown that even the youngest children respond to tempo changes, can discriminate among differences in loudness and melody, and can sense when a song is ending. It is important for parents to understand the value of music for the development of young children. It is not only fun for their kids to listen, sing and dance along to, but it also helps children develop a host of important skills, such as language, concentration, social skills, confidence and self-esteem."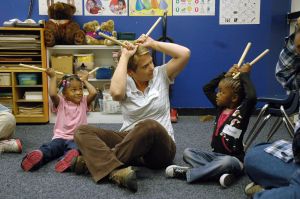 Classes are taught by trained professionals and are scheduled for various days and times at the following locations, beginning the week of March 24:
Greencroft Senior Center (Goshen)
Goshen College Music Center (Goshen)
LifeCenter/First United Methodist Church (Goshen)
Chamberlain Elementary School (Goshen)
Waterford Crossing Senior Village (Goshen)
Prairie Street Mennonite Church (Elkhart)
Regular tuition for the 10-class session is $150 for the first child. Siblings may attend for an additional $50 per child. Sliding scale tuition is available to any family whose income qualifies them for free or reduced lunch in the Federal Free or Reduced Lunch program. The Music Center is committed to making this program available to every family who wants to participate.
Included are a new songbook and CD and 10 sessions. Registrants are also invited to attend an all-class Music Together celebration in the Goshen College Music Center on Saturday, May 17, 2014. Patrons are encouraged to register as soon as possible to ensure enrollment in their preferred class.
To register, or for additional information, including sliding scale fees, specific class schedules and locations, please contact the Music Center main office at (574) 535-7361 or visit www.gcmusiccenter.org.