The King's Singers to return to Goshen College on Jan. 31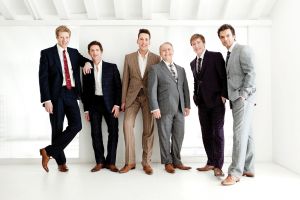 Performing Arts Series Concert: The King's Singers
Date and time: Friday, Jan. 31, 2014 at 7:30 p.m.
Location: GC Music Center's Sauder Concert Hall
Cost: $44, $40, $28
For more information: Call (574) 535-7566 or email welcomecenter@goshen.edu
Website: www.kingssingers.com 
The world-renowned British a cappella group, the King's Singers, will return to Goshen College Music Center's Sauder Concert Hall on Friday, Jan. 31 at 7:30 p.m. as part of the college's Performing Arts Series.
Instantly recognizable for their spot-on intonation, impeccable vocal blend, flawless articulation and incisive timing, the Grammy Award-winning a cappella vocal ensemble will return to Goshen College for the first time since their 2006 Performing Arts Series concert.
Having sung and toured the world for 41 years and compiled a discography of more than 150 recordings, the King's Singers are consummate entertainers, charming audiences with a delightful British wit along with their stunning vocal performance.
Very few tickets remain for this performance. Tickets are on sale for $44, $40, $28 and are available through the Goshen College Welcome Center by calling (574) 535-7566, or emailing welcomecenter@goshen.edu.
Seating for those with disabilities is available. Tickets are nonrefundable.
The Goshen College Performing Arts Series debuted on Sept. 21, 1997. Since then, the college has hosted more than 100 concerts by some of the world's greatest performers as part of the program.
– By Lexi Kantz