Ted & Company explores hopes and fears with new show on sexuality and the church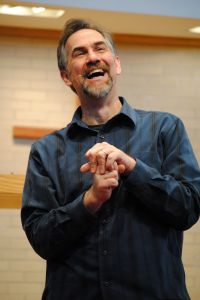 Event: "Learning to Play" by Ted & Company
Date and time: Sunday, Jan. 26, 7:30 p.m.
Location: Goshen College Church-Chapel
Cost: No cost, free-will offering will be taken
Ted & Company TheaterWorks will debut a new performance, titled "Learning to Play," in the Goshen College Church-Chapel on Sunday, Jan. 26 at 7:30 p.m. The hour-long performance is free and open to the public, with a free-will offering to help cover expenses.
In "Learning to Play," Ted Swartz uses his distinctive humor to give voice to our fears and hopes when a faith community engages in questions around sexuality and same-sex relationships. It's about a father's journey, a church's struggle and a search for commonality.
"It's a touchy subject, it's a hard subject, it's one that almost everybody, if they're honest, is touched by," Swartz said. "I feel that laughter and humor is the best way to enter into almost any issue, particularly difficult issues, you know, like the Bible."
"Learning to Play" follows the story of a widowed father whose son has just come out as gay. Through his relationships with his son, an estranged cousin, people in his church and a pastor who deals with issues of sexuality in the Bible, the main character is challenged by many different viewpoints and experiences.
"It's his journey of discovering, searching, getting advice and hearing from people in his own church," Swartz said. "It's a piece about church. It's a piece about fatherhood. It's a piece about community. It's a piece about our sexuality. And hopefully it's an entertaining and enlightening piece about openness and love."
"Openness can be interpreted in many ways," Swartz noted. "It would do me little good to create a show that is solely for people who have made up their minds one way or another. I think the reason that I'm excited about doing the show is that I want it to be a helpful thing for the church. I don't want to be participating in things that continue to divide. So I want to participate in things that help bring us together. We're never going to agree on everything, but is it possible for us to live in that paradox, that dichotomy? Hopefully this piece will be a part of that process of ongoing dialogue."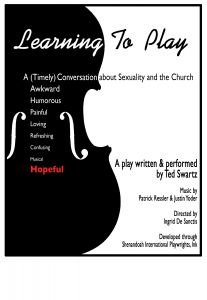 The show features live, original music by recent Goshen College graduates Justin Yoder '13 and Patrick Ressler '11. The music becomes a secondary character, with the voice of the son heard solely through the sounds of Yoder's cello. Both Yoder and Ressler collaborated with Swartz on the composition, which becomes part of the conversation and draws heavily on the Mennonite hymn-singing tradition.
"I'm honored to work with Ted on a production that asks the audience to put human faces on gay characters as well as characters processing the topic of same-sex sexuality," Ressler said. "This is a conversation that the Mennonite Church is struggling to have. Something I love about Ted's work is his ability to host difficult conversations onstage through the voices of his complex and entertaining characters."
Swartz had been approached several times during the last few years about creating a show that addresses sexuality in the church, but until late last year, his plate was too full. When Western District Conference of Mennonite Church USA held a symposium on homosexuality in October 2013, the opportunity arose for Swartz to workshop some of his new material on the topic. Out of that performance at the symposium, "Learning to Play" took shape.
"The idea was to create a piece in which as many audience members as possible can hear their own voice somewhere," Swartz said. "It's not coming with a hard agenda, but rather with an agenda to create a piece that gives voice to as many persons as possible and leads to hopefulness."
"We also wanted to do something that wasn't just about GLBT issues, but about sexuality overall," Swartz added. "So I think about it as a funnel that sort of narrows down into same-sex issues, but it also deals with sexuality in general, the church's inability to have conversations about sex, and touches on other issues that many see as equal or more important in regards to patriarchy, power and abuse."
As with most Ted & Company productions, Swartz said that "Learning to Play" continues to be a work in progress. A talkback session after the Goshen College performance will help steer futures shows, as the play becomes part of Ted & Company's regular repertoire.
"I wanted to create something that I could continue to perform, not just in the Mennonite Church, but in the broader church in general," Swartz said. "If I have a voice in this, I want to be able to create something that allows people to feel and hopefully makes them laugh. What happens with those two things is that you begin to open up, not necessarily that you'll be convinced of a particular position, but you'll be open to remaining in conversation with people who might have a different view."