Generations come together during Goshen College's inaugural Grandparents Day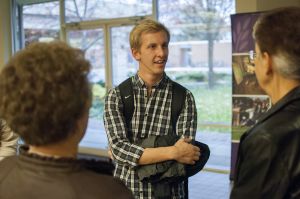 There were some new faces in Quinn Brenneke's Friday afternoon economics class earlier this semester. Brenneke, a senior public relations major from Fort Wayne, Ind., was one of over 40 students who welcomed their grandparents to Goshen College for the first annual Grandparents Day on Nov. 1.
"It's fun to have my grandparents here, because now they get to see what my life is like at college, and I get to share that part of me with them," Brenneke said.
Approximately 100 grandparents were on campus to spend the day visiting and seeing their grandchildren's college experience first-hand. The day included breakfast, a reception with Goshen College President Jim Brenneman, an opportunity to attend classes, have lunch with their grandchild, tour campus and other optional activities.
View photos from Grandparents Day.
Brenneke's maternal grandmother, Linda Kelley, came all the way from Arizona, and his paternal grandparents, Sharon and Lloyd Brenneke, visited campus from Hoagland, Ind.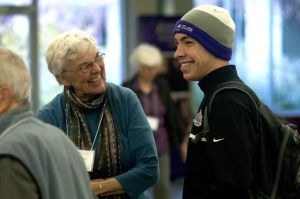 Kelley was planning a family visit anyway, but when she learned about Grandparents Day, she scheduled her visit to coincide. "It's very fun to see him interacting with the people here on campus," she said. "Everybody loves him."
According to Rose Shetler, director of annual giving at the college, the goal of the day was to honor the relationships between the generations and to help grandparents see for themselves the great things that are happening at Goshen College.
"It was simply a heartwarming day," she said. "For some, it was the first time they've been on campus. For others, it was like coming home, only now experiencing campus through their students' eyes. I'm so thankful for everyone who helped make this day possible, including our guests."