Art of recycling: Students explore earth care in art exhibit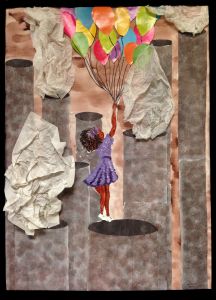 Art exhibit: "Recycled"
Reception date and time: Monday, Feb. 10, 10:30 a.m.– noon (exhibit open now through Feb. 19)
Location: Goshen College's Harold and Wilma Good Library basement gallery
Cost: Free and open to the public
The Goshen College Art Department and art club are co-sponsoring a themed student art exhibit in the Harold and Wilma Good Library Gallery at Goshen College. The exhibit, based on the theme "recycled," opened on Nov. 28 and will be on display through Feb.19, 2014. A reception will take place on Monday, Feb. 10, from 10:30 a.m. to noon in the Good Library Gallery.
This is the fourth year a themed student exhibit has been held. Previous themes were "tolerance and the other," "north and south" and "lion and lamb."
"Themes are selected that reflect the shared values of the Goshen College community," said Randy Horst, professor of art at the college. "We try to pick themes that can be interpreted in a wide variety of approaches."
This year's exhibit includes 33 artists and 51 works of art in a variety of media, including drawing, jewelry, sculpture, painting, collage, ceramics and mixed media. The artwork explores issues related to recycling and earth care, explore ideas and issues related to cultural and social redefinition and explore the use of repurposed materials.
The exhibit is open during library hours, which vary throughout the school year. See the Good Library website for current hours.