Merritt Lehman '64: Rowing to gold on the world stage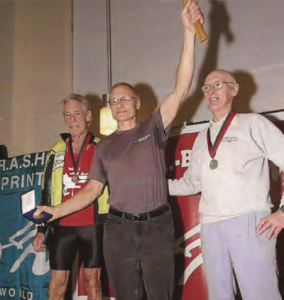 Merritt Lehman '64 won the gold medal at the World Indoor Rowing Championships in Boston in February. In the process, he set a new American record in the 2,000 meters for the 70-79 lightweight age group.
While his athletic background includes playing four years of baseball for the Maple Leafs and a two-plus month bike tour from Seattle to San Diego to Mississippi to Indiana, Lehman had a very inauspicious start to his now prolific rowing career. He did not begin competing in the sport until January 2010 when he turned 67 and was looking for a way to get more exercise during the winter months. He turned to rowing and almost immediately his attention turned from simply exercising to thoughts of competing.
Less than two years after beginning training, Lehman qualified for the world championships in Boston, taking second in the 65-69 age group in 2012. With the clear goal of returning to win gold, Lehman went to the gym every other day from November 2012 to February 2013. Then came February 17 in Boston. He was already the American record holder set during a qualifier, but Lehman took it a step further, setting the new mark with a 7:22.3 to win the gold.
– By Josh Gleason