Lasting ties: bonnets overboard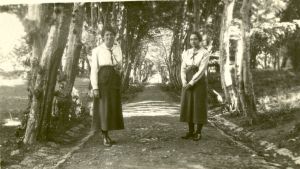 The day of March 29, 1921 found Vesta Zook (Slagel), a 1915 graduate, and Vinora Weaver (Salzman), a 1918 graduate, in the New York City harbor boarding the SS Regina d'Italia ship for a 19-day voyage to Constantinople. Both women had studied at Goshen College and had since become faculty members: Vesta as dean of women and home economics professor; Vinora teaching shorthand.
Three months earlier they had gotten the call to become the first "lady workers" with the fledgling relief organization Mennonite Central Committee (MCC). Civil strife in Russia had uprooted many people, some of whom fled to Constantinople. Several GC male alumni working there suggested that at least two women be sent to organize an orphanage and perform secretarial duties.
Like Lois Gunden two decades later, Vesta and Vinora left campus duties behind to respond to human need created by war. In preparation, both underwent "preventative" tonsillectomies, applied for passports and packed steamer trunks with Epsom salts and other supplies deemed necessary for their survival. Both regretted devoting space to packing the bonnets then considered de rigueur in the Mennonite world, but were cautioned to "wear what Mennonite women in the U.S. wear." Several days into the Atlantic crossing, having recovered from initial seasickness, Vesta and Vinora took advantage of a quiet morning on deck to cast the headgear overboard.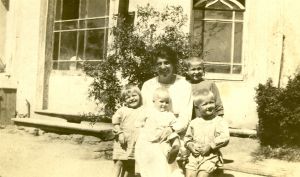 Arriving in the bustle of an unfamiliar land, Vesta set to work acquainting herself with the duties necessary to operate an orphanage that housed over 100 children. Vinora discovered that the intended secretarial tasks were neither as time-consuming nor as necessary as other matters. Soon she was operating a center that assisted adult female refugees. Their efficient and economical leadership of operations garnered respect among other international relief workers.
A year later, MCC received permission to send relief workers directly into Russia, long the real hope of the organization. Russia, however, would not allow women to enter unless they were doctors or nurses. So, just a year after arrival, Vesta and Vinora found themselves making alternate arrangements for the orphans and women in their care. They returned home to service-filled lives in the Midwest, never dredging their bonnets from the deep.
– By Joe Springer, curator, Mennonite Historical Library