Kathy Short '75 named to prestigious Caldecott Committee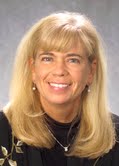 Kathy Short is highly accomplished in the field of children's literature, but when she found out that she was nominated to the 2014 Caldecott Committee, she was understandably "excited and honored to be elected."
Each year, the Caldecott Committee selects one picture book from among 500 to 700 candidates to receive the Caldecott Medal (and two to five honor books), a prestigious award that recognizes the talent of children's book illustrators. Interestingly, Rita Smith '67 was on the committee in 2005.
It was a professor's love of books and critical consideration of children's lit that sparked Short's passion. When she was taking a children's literature course taught by Mary Royer, professor of education, Short remembers realizing that "children's literature was a field of scholarly work."
Short currently resides in Tucson, Ariz., and teaches at the University of Arizona. She is also the director of Worlds of Words, a nonprofit whose mission is to build bridges across cultures through children's literature.
– By Abby Hertzler '13