Kiplinger's ranks Goshen College 77th among private liberal arts colleges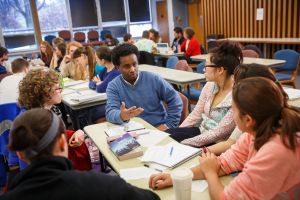 Goshen College has again been named one of the top 100 best values among all private liberal arts colleges by Kiplinger's Personal Finance. The magazine recently announced the top private universities and liberal arts colleges that combine outstanding quality with affordability. This year, Goshen College was ranked 77th among liberal arts colleges, which places it second among Indiana liberal arts colleges.
While continuing to maintain a quality college education and strong student satisfaction, Goshen College is also an affordable option by having a lower sticker price, offering significant financial aid packages and keeping graduation debt levels down.
Goshen College costs 10 percent less than the national average for private colleges.
Last year, 99 percent of all Goshen students received financial aid and the average aid package was $21,218.
The college has kept debt down for graduates: 2012 graduates had an average of $18,057 of total debt, which was lower than the averages for Indiana public and private colleges and universities, as well as the average for all U.S. colleges and universities.
"We are thrilled to be recognized once again by Kiplinger's as one of the top liberal arts colleges in the nation," said James Townsend, vice president for enrollment management and marketing. "I believe our commitment to small classes, personal attention and affordability make us one of the best options for students in Indiana and around the nation."
The next opportunity to visit Goshen College during a Campus Open House is on Nov. 8, which also includes an education department open house and nursing department open house for students interested in studying either teaching or nursing. Go to www.goshen.edu/admission/visit/openhouse/ to register. The priority application deadline for next school year is Dec. 15.
Goshen College and the other schools included in the 2014 lists represent the colleges that provide high-quality academics at a reasonable cost during these continued tough economic times. The college exemplifies attributes that parents and students look for in higher education, including small class sizes, a good freshman retention rate and a high four-year graduation rate.
"With President Obama's recent emphasis on rating colleges and universities based on their value, our rankings serve as a valuable resource to help students and families make more informed choices," says Janet Bodnar, editor of Kiplinger's Personal Finance magazine. "Combining a high-quality education with an affordable price tag is a challenge, but the colleges on this year's list offer the best of both worlds."
Kiplinger's chooses from a pool of more than 600 schools and creates two lists – the top 100 best values in private colleges and the 100 best values in private liberal arts colleges, which Goshen is on. The schools on the two lists were ranked according to academic quality and affordability, with quality accounting for the majority of the total. Criteria included cost and financial aid, competitiveness, academic support, graduation rates and student indebtedness.
The rankings are available online at www.kiplinger.com/links/college, and will be published in the magazine's December issue on newsstands Nov. 5.
Illinois, Indiana, Michigan and Ohio private liberal arts colleges ranked by Kiplinger's Personal Finance for 2012-13
23. Denison University (Granville, Ohio)
25. Kenyon College (Gambier, Ohio)
28. Hillsdale (Mich.) College
29. Wheaton (Ill.) College
38. Oberlin (Ohio) College
43. DePauw University (Greencastle, Ind.)
51. Kalamazoo (Mich.) College
56. Principia College (Elsah, Ill.)
60. Illinois Wesleyan University (Bloomington, Ill.)
64. The College of Wooster (Ohio)
68. Hope (Mich.) College
73. Knox College (Galesburg, Ill.)
77. Goshen (Ind.) College
79. Augustana College (Rock Island, Ill.)
80. Wabash College (Crawfordsville, Ind.)
88. Earlham College (Richmond, Ind.)
100. Hanover (Ind.) College