Villiers String Quartet performance at Goshen College to include GC student's original composition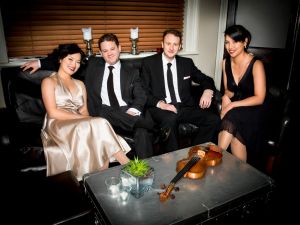 Concert: Rieth Chamber Series: Villiers String Quartet
Date and time:  Friday, October 25, 2013, 7:30 p.m.
Location:  Goshen College Music Center's Sauder Concert Hall
Cost:  Free-will offering. Suggested donation of $15.
The United Kingdom-based Villiers String Quartet will perform in Goshen College's Sauder Concert Hall on Friday, October 25, at 7:30 p.m. Along with works by Beethoven and Elgar, the quartet will perform a composition by current GC music student Henry Stewart.
Stewart's Threnody / Images, which was a finalist in Villiers' inaugural New Works Competition last spring, was inspired by a photograph of a woman by Gary Goldberg published in a 1979 collection of photography titled "The Family of Woman" and by a childhood nightmare of a black fire on the horizon of a vast empty plain. Stewart, a junior music composition major from Lancaster, Pa., was the only undergraduate student to have his work progress to the finals of the competition.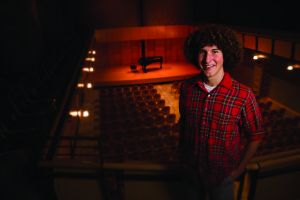 "I am very excited to see the Villiers Quartet again and to hear their performance," Stewart said. "It is always an honor to have my music played by such talented performers as the Villiers Quartet."
Steward added, "considering the constant self-critique that is necessary for art to grow, being recognized by the Villiers Quartet two years ago was an important validation that has provided some clarity and direction for me during college."
The program will also feature performances of Beethoven's String Quartet in B-flat Major, Op. 18 No. 6, and Elgar's String Quartet in E minor, Op. 83.
The concert is open to the public, and a free-will offering will be held. There is a suggested donation of $15 per person.
Named Quartet-in-Association with the Northern Lights Symphony Orchestra, the Villiers Quartet created its ground-breaking chamber music residency and concert series in collaboration with St. Andrew's Church in west London.
At the forefront of innovation and creativity in chamber music, the quartet has become known for masterful interpretations of works by English composers such as Edward Elgar, Frederick Delius, Alan Bush and Frank Bridge. Projects for 2013-2014 season include recording the quartets of British composer Robert Still with the British Music Society and Naxos Records, an invitation to perform at the North York Moors Festival and the launch of their bienniale VQ New Works Competition for contemporary music next spring.
This concert is the second in Goshen College's new Rieth Chamber Series, committed to bringing high quality chamber and organ music to the Music Center's performance halls, and is made possible in part by donations of this inaugural year's season subscribers. More information about this series is available online at www.gcmusiccenter.org/concerts/riethseries.