Play tells stories of Mennonite women of color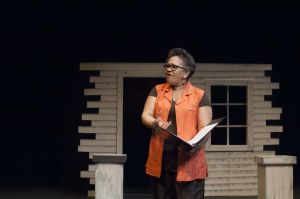 Play: Heavenly Voices
Date and time: Sunday, Sept. 29, 3 p.m.
Location: Goshen College, Umble Center
Cost: Free, donations encouraged
Heavenly Voices, a play featuring stories of Mennonite women of color, will be coming to Goshen College on Sunday, Sept. 29 at 3 p.m.
The play was written by Pat Lehman, a professor of communication at Goshen College, and Linda Christophel, a social worker from Howe, Ind. The play is an ethno-drama which depicts stories of real women of color in the Mennonite church.
Lehman and Christophel conducted interviews with Mennonite women of color from 2000 and 2006. These interviews became the basis for Heavenly Voices. They pulled many of the stories depicted in the play directly from the interviews.
Lehman and Christophel felt strongly about telling the stories of Mennonite women of color because they have often been a group that is not acknowledged in church publications. The stories range from "memories of childhood, how [these women] became Mennonite, a time when God was close to them during a hard time, and how they would like to be remembered," said Lehman.
Heavenly Voices was first performed in Goshen College's Umble Center in 2010. The cast and script has been updated since the original 2010 performance and was performed three times this summer in Phoenix, Ariz., as a part of the Mennonite Church USA Convention.
The cast includes Goshen College students and faculty as well as members of the Goshen community.
– By Chenoa Jeanne Mitchell