Goshen College student selected as a rising young leader in sustainable energy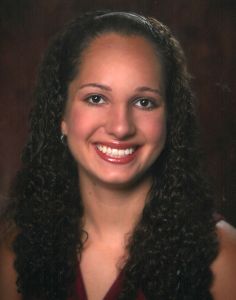 Maria Jantz, a Goshen College sophomore physics/pre-engineering and interdisciplinary double major from North Newton, Kan., was selected as one of 20 college students from across the country who will serve as delegates at the 2013 ReCharge! retreat, a meeting of rising young leaders in the sustainable energy sector. The retreat is associated with Focus the Nation, a national non-profit clean energy organization that seeks to empower young people.
The delegates were selected based on their dedication, passion and unique contribution to advancing sustainable energy in the United States. They will meet for one week beginning on August 11, 2013, on Oregon's Mt. Hood to explore an area of the country where the use of renewable energy sources is becoming increasingly common.
Delegates will hike Elliot Glacier, which has experienced 60 percent snowpack loss since 1982; tour the Boardman Coal Plant, scheduled to close by 2020; experience The Dalles Dam, located on the Columbia River and producing hydropower since 1957; and visit Biglow Canyon Wind Farm, which powers 125,000 homes in rural Oregon. Upon returning home, the students will put what they learn at the retreat to use on their campuses and in their communities by promoting sustainable energy solutions.
The delegates are divided into four categories — technician, innovator, politico and storyteller. Jantz was chosen as one of the innovators, people who discover and demonstrate the power of new ideas related to clean energy.
Jantz, a 2011 graduate of Newton High School, hopes to go into clean energy engineering in the future, and she applied to ReCharge! because she was interested in the chance to tour renewable energy plants and learn more about different types of clean energy sources.
"I think this conference will help me define more clearly what I want to do in life, as well as how I can get there," Jantz said. "I hope to bring back what I've learned to help Goshen to lessen its impact on the environment."
–  By Lauren Stoltzfus