Goshen College student chosen for prestigious summer journalism internship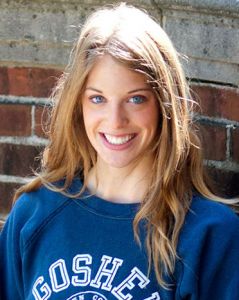 Kate Stoltzfus, a Goshen College junior English writing and journalism double major, was selected by the Hoosier State Press Association as one of 10 Eugene S. Pulliam interns for this summer.
The Eugene S. Pulliam Internship Program, named for a former publisher of the Indianapolis Star and the Indianapolis News, accepts applications from college students interested in journalism who attend a university in Indiana or who are Indiana residents. The students who are selected are then matched with an Indiana newspaper for a 10-week internship.
For her internship, Stoltzfus was paired with the Kendallville News Sun, a newspaper based in Kendallville, Ind., where she works as a reporter covering a variety of topics, including breaking news, court news, gas prices and features. She also has the chance to edit stories.
Stoltzfus is from Goshen and is a graduate of Goshen High School. She previously wrote weekly announcement columns for the Elkhart Truth for two years and worked as a summer intern for Beacon Press during summer 2012. She has also served as a page editor and writer for the Goshen College Record and has written for Goshen Commons, a community blog published by the Goshen College Communication Department.
One of the aspects of her News Sun internship that Stoltzfus enjoys most is "the opportunity to learn how to write different types of articles and get feedback from people who have been working in journalism for more than 30 years."
"It's also fun to see how a newsroom works up close," she said.
–  By Lauren Stoltzfus