African indigenous art featured in Goshen College exhibit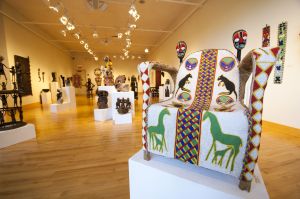 Exhibit: "Indigenous Arts of Africa" by Keith and Ann Graber Miller of Found
Date: June 2- September 22, 2013
Reception: Sept. 22, 2013 from 2 p.m. to 3:30 p.m.
Location: Goshen College Music Center's Hershberger Art Gallery
Cost: Free and open to public
African art represents the wide range of people, societies and civilizations that identify with their own visual culture. The Goshen College Music Center's Hershberger Art Gallery will be showcasing that variety in an exhibit titled "Indigenous Arts of Africa." The exhibit runs from June 2 to Sept. 22. There will be a reception on the last day of the exhibit – Sept. 22 – from 2 p.m. to 3:30 p.m., with a lecture following.
This exhibition of 21st-century African art is a sampling of the extensive collection of Ann and Keith Graber Miller, owners of Found, an international art gallery in downtown Goshen. Collected from the Graber Millers' travels in Kenya and Ethiopia, as well as their acquisition of the West African collections of several others, the exhibition includes: a beaded chieftan's coat from Nigeria, antique woven vegetal and leather baskets from the Orono people of Ethiopia, fabrics from Ghana and Congo, bronze statues from Cameroon and Benin, large ceremonial masks from the Bobo people of Burkina Faso, stone Shona sculptures from Zimbabwe and Ethiopian Orthodox icons.
---
Enjoy a virtual video visit to the exhibit:
(Video filmed and produced by Mia Graber Miller)
---
"Our collecting is what led us to open our store Found," says Graber Miller. "We mainly travel and collect art from Asia, Latin America, Africa and Eastern Europe, but this is our first show from one specific continent." The Graber Millers have been collecting art since they were married in 1987.
The collection is a combination of ceremonial objects as well as artifacts from daily life. Many of the pieces were inspired by high religious feeling and linked to ancestor worship. For the viewer, the exhibit will inspire a sense of spirituality, curiosity and mystery.
After seeing the diverse collection of African art at Found, Goshen College Assistant Professor of Art Kristi Glick invited the Graber Millers to exhibit in the Hershberger Art Gallery. Their African collection originated when the couple planned to travel to Kenya and Ethiopia two years ago. In preparation for their trip they began visiting African art galleries in Chicago, Indianapolis and New Orleans to get a sense of what might be available. They purchased a number of pieces prior to and then after traveling to Africa, including a warehouse of African art in Indianapolis that had been part of three separate collections. Many of those works are included in the current show.
Keith is Professor of Religion in Goshen College's Bible and Religion Department and Ann is an interior design consultant.
The Hershberger Art Gallery is located in the Music Center and is open during the summer from 10 a.m. to 12 p.m. on weekends and 1 p.m. to 3 p.m. on weekdays. The building is accessible to people using wheelchairs and others with physical limitations.
– By Lexi Kantz