Free Write on Sports summer camp accepting middle school applications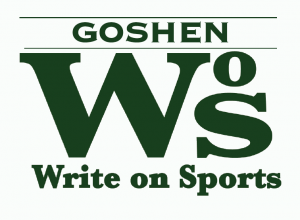 A two-week day camp in Goshen called Write on Sports is accepting applications from students who will be entering seventh and eighth grades.
During the camp, students will interview local athletes, including Justin Gillette, a Goshen marathoner who has won more than 60 races across the country, and Natalie Newell, a standout pitcher who led the Bethel College softball team to the NAIA national tournament.
Students will learn interviewing techniques from journalists with The Goshen News and The Elkhart Truth, as well as from Vince Turner, a MutualBank vice president and a member of the Elkhart County Sports Hall of Fame who covered games as a writer with The Truth and a broadcaster with WTRC radio.
Field trips will include a visit to Notre Dame University and a South Bend Silverhawks game, where students will have a chance to interview team members before the game.
Students will write sports stories and create videos during the camp, which will be held July 8-19 at Goshen College. The camp is free, with scholarships made possible by the Maple Leaf Athletic Club, the Windward Foundation and other donors. Lunch will be provided.
For more information or to apply, call (574) 535-7881 or write to events@goshen.edu. The Goshen camp is a partnership of Goshen College and Goshen Community Schools and is an extension of the Write on Sports organization, based in New Jersey. Students who live in other school districts are also invited to apply.
Byron Yake '61, a former national sports editor with The Associated Press and a Goshen College graduate, established the program in 2006. The Goshen camp will be the first Write on Sports camp outside of New Jersey.
"We're very excited about the prospects for natural learning that will happen when sports and writing are joined," said Duane Stoltzfus, Goshen College communication professor and director of the Goshen camp. "The skills that students hone during these two weeks will carry over into writing about other subjects when they return to school in the fall."