Campus Center for Young Children recently reaccredited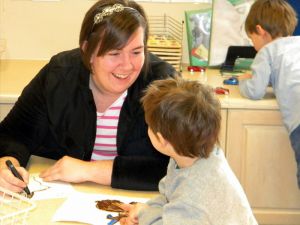 The Campus Center for Young Children (CCYC), located in College Mennonite Church on the Goshen College campus, was recently reaccredited by the National Association for the Education of Young Children (NAEYC). NAEYC is the nation's leading organization of early childhood professionals whose accreditation standards are met by less than ten percent of the early childhood programs. Since first accredited in 2000, CCYC is one of only three early childhood programs in Elkhart Country to achieve and maintain NAEYC accreditation.
CCYC formed in 1997 as a joint effort between Goshen College and College Mennonite Church. It now offers early care and education programs for children ages 18 months through 5 years. Though enrollment priority is given to students and employees of Goshen College and College Mennonite Church members, children of the broader community are also enrolled. CCYC has a second location on the north side of Goshen at Arbor Ridge Apartments. Jointly, the two programs are serving over 100 children in the Goshen community.
Janet Whalen Couch, Executive Director of CCYC, believes NAEYC accreditation is a reflection of the program's commitment to our community. "Achieving accreditation is the result of many months of programming review, gathering evidence of best practices and surveying families and teaching staff," she said. "CCYC has always been committed to providing the highest quality programming for the children and families we serve. Achieving accreditation is evidence of that commitment."
NAEYC created its accreditation program in 1985 to set professional standards for early childhood education, and to help families identify high-quality early education programs. Programs are accredited by NAEYC for a five-year period. To receive accreditation, CCYC went through a process of self-study, a professional review by the NAEYC panel, and an intensive onsite observation of the program in action.
– By Becca Kraybill