Merry Lea to offer spring break frog hikes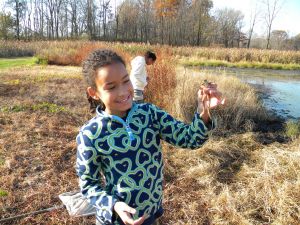 Early spring is an exciting and enjoyable time to explore the outdoors at Merry Lea Environmental Learning Center of Goshen College in central Noble County. The ground begins to thaw, new buds emerge, wildflowers begin to flash their color, and the frogs begin their mating calls.
Naturalists Lisa Zinn, Jonathan Schramm, Tom Hartzell and Carol Good-Elliott will lead hikers in search of peepers and wood frogs and everything else that croaks. Many schools are on break this week, so these outings are especially geared toward families. Hopefully each participant will get to hold a frog as well as hear it.
"Every marsh and woodland puddle erupts in a chorus of frog song," explains public program coordinator Jennifer Schrock, who has a small wetland right outside her office window. Like bird species, each has its own distinct call.
The fee for Merry Lea's frog hike is $5 for adults, $2 for children. Please call 260-799-5869 or email jenniferhs@goshen.edu by April 3 to register. Boots are recommended. Meet at the Farmstead site (directions).
Merry Lea Environmental Learning Center of Goshen College is a 1,189-acre nature preserve located in central Noble County, midway between Fort Wayne and Goshen. Merry Lea was created with the assistance of the Nature Conservancy and the generosity of Lee A. and Mary Jane Rieth.