National Science Foundation gives Goshen College $598,000 for science scholarships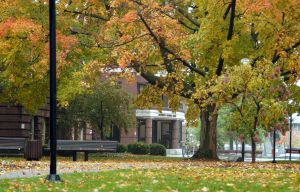 The National Science Foundation (NSF) has just awarded Goshen College a five-year grant of $598,000 to provide need-based Leaf Scholarships to academically talented first-generation college students pursuing careers in science, technology, engineering and mathematics (STEM).
"Receiving this prestigious and competitive grant is an honor and speaks to the strength of the college's science programs and faculty, and in working with diverse students through our Center for Intercultural and International Education," said Goshen College Academic Dean Anita Stalter. "We are pleased to have this assistance in seeking to recruit and retain more students in the sciences from groups which are traditionally underrepresented, and to help prepare them to make significant contributions to the world."
In addition to receiving a four-year scholarship of up to $40,000 total, the recipients will participate in group activities to ensure their academic and professional success. African-American, Hispanic, Asian and Native American students are especially encouraged to apply. The first cohort of awardees will be first-year students in fall 2013.
The Goshen College Leaf Scholars project team includes Dr. David Housman, professor of mathematics; as well as Dr. Kent Palmer, associate professor of informatics; Dr. Ryan Sensenig, associate professor of biology and environmental science; Dr. Dan Smith, professor of chemistry; and Dr. John R. Buschert, professor of physics.
There are seven other colleges in Indiana which are also current recipients of this grant funding: Butler University, DePauw University, Indiana State University, Indiana University, Purdue University, Rose-Hulman Institute of Technology and St. Mary's College. The NSF provides more information about this program on their website.
"Goshen College STEM students have opportunities to participate in a rich variety of integrative learning opportunities on our campus," said Housman, who is leading this project. These include: a weekly Science Speaker series, the Maple Scholars summer research program, an annual Undergraduate Research Symposium, annual grade 7-12 Science Olympiad regional tournament and an annual Religion and Science conference.
"The contributions our science alumni are making in the world demonstrate how well our programs prepare students," said Housman.
Goshen College's strong science programs prepare graduates for success:
Goshen College is ranked number 1 in the percentage of graduates who received Ph.D.s in the life sciences among the Council for Christian Colleges and Universities' 70 undergraduate institutions.
In a recent study by Franklin and Marshall College of over 500 undergraduate institutions, Goshen College ranked in the top 5 percent for its percentage of graduates who earned Ph.D.s in life sciences.
100 percent of Goshen College students who applied to medical school in 2012 were accepted, and the 5-year average medical school acceptance rate for Goshen College graduates is 92 percent.
90 percent of Goshen College chemistry graduates who applied to graduate school were accepted.
70 percent of Goshen College physics majors enter graduate school.
Notable Goshen College science alumni include: cancer researcher Dr. Douglas Schwartzendruber '78, who was named one of Time magazine's 100 most influential people; biologist Roger Beachy '66, who was the first director of the National Institute of Food and Agriculture; and biologist Orie Eigsti '31, who developed the seedless watermelon.
The criteria for qualifying for the scholarships are available here. Persons interested in this scholarship should contact the Goshen College Admission Office by calling (574) 535-7535 or emailing admission@goshen.edu.