Nolt to speak on Amish spirituality for March Afternoon Sabbatical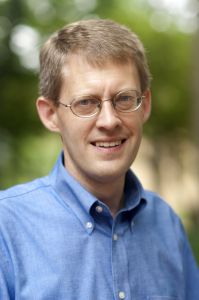 Afternoon Sabbatical: "The Amish Way: Patient Faith in a Perilous World," by Professor of History Dr. Steve Nolt
Date and time: Tuesday, March 12 at 1 p.m.
Location: Goshen College Music Center's Sauder Concert Hall
Cost: Free and open to the public
Goshen College Professor of History Steve Nolt will present an Afternoon Sabbatical lecture on "The Amish Way: Patient Faith in a Perilous World" on Tuesday, March 12 at 1 p.m. in the Goshen College Music Center's Sauder Concert Hall. The program is free and open to the public.
Many people recognize the outward expressions of Amish life, such as the buggies and bonnets, but are less familiar with the faith that sustains these practices. Nolt will shed light on the spirituality – the religious heartbeat – of our Amish neighbors, and ask what their religious practices might say to the rest of us.
Nolt was a co-author of a book published by Jossey-Bass by the same title in 2010. It was the first book ever about Amish spirituality and practice, and offered a rare inside look at how Amish Christian beliefs and practices inform every aspect of Amish daily life.
And the Amish population is growing. According to a 2010 report, the number of Amish in North America has doubled since 1991 to 249,500 people. Indiana is home to 43,710 Amish residents. This is due to large families and the fact that nearly 85 percent of children raised in an Amish community choose to join the Amish church as adults.
In addition to teaching history, Nolt is an internationally-recognized expert on the Old Order Amish. He is the author or coauthor of nine other books, including The Amish Way: Patient Faith in a Perilous World (2010), Amish Grace: How Forgiveness Transcended Tragedy (2007), Mennonites, Amish and the American Civil War (2007) and A History of the Amish (2003).
Afternoon Sabbatical programs are usually on the second Tuesday of the month at 1 p.m. in Sauder Concert Hall. For more information on the Afternoon Sabbatical series call the Goshen College Welcome Center at (574) 535-7566.
Future programs in the 2012-13 Afternoon Sabbatical series include:
Tuesday, April 9, 2013 at noon in College Mennonite Church Fellowship Hall
International Luncheon: Turkey with Merle and Mary Hochstedler
Cost: $20. Call 574-535-7565 before March 30 to register ($5 late fee).
Tuesday, May 9, 2013
Spring Bus Trip to Indianapolis: Show House and State Museum
Cost $65. Register early as there is limited space for this trip. Call 574-535-7565 to register.