Tickets available for Annual International Student Club Coffeehouse March 9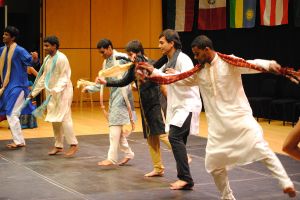 The Goshen College International Student Club (ISC) will offer dinner and a show during their annual ISC Coffeehouse on Saturday, March 9. The evening will begin at 5 p.m. with a student-catered international meal held in the College Mennonite Church Fellowship Hall. A show featuring international music and dance will follow at 7 p.m. in the Music Center's Sauder Concert Hall.
The coffeehouse showcases the cultures of international students on campus, who come from more than 30 countries. Ticket funds serve as a fundraiser for various international projects, including Goshen College international student scholarship assistance and ISC events. A percentage of the show will also go to a local charity. Last year, the coffeehouse donated $1,000 to the construction of a Habitat for Humanity home and $500 to Invisible Children.
Tickets for both the dinner and show cost $17 for adults and $10 for students and children. Tickets for just the show cost $10 for adults and $5 for students and children. Dinner tickets tend to run out quickly. They must be purchased ahead of time by calling the Welcome Center at (574) 535-7566. Show tickets may be purchased at the Welcome Center, at the Music Center door or at www.goshen.edu/tickets.
-By Becca Kraybill