Pianist Park-Kim to perform solo recital Nov. 7
Concert: Visiting Artist Recital – Phoenix Park-Kim, solo piano
Date and time: Wednesday, Nov. 7 at 7:30 p.m.
Location: Goshen College Music Center's Rieth Recital Hall
Cost: $7 adults, $5 senior/students, available at the door one hour before the concert. GC students/faculty/staff free with ID.
---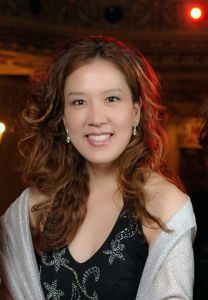 Indiana Wesleyan University professor and pianist Phoenix Park-Kim will present a solo piano recital in Goshen College Music Center's Rieth Recital Hall on Wednesday, Nov. 7 at 7:30 p.m.
Park-Kim's program will include arrangements of J.S. Bach by Wilhelm Kempf and Egon Petri, as well as works by Haydn, Rachmaninoff, Gershwin, Verdi/Liszt and Frederic Rzewski.
Tickets cost $7 adults, $5 seniors/students, and are available at the door beginning one hour before the concert. Goshen College faculty, students and staff are free with ID.
Associate Professor of Piano at Indiana Wesleyan University Park-Kim is an active and accomplished soloist and avid chamber musician. Her performances have taken her throughout the United States, South Korea, Taiwan, Italy, Switzerland and Russia. She has won top prizes at national and international competitions including first place at the Miami Concerto Competition, Jefferson City Concerto Competition and Kansas City Philharmonic Concerto Competition, and was a finalist at the Liszt-Garrison International Piano Competition.
Born in Seoul, South Korea, Dr. Park-Kim began playing the piano at the age of five and gave her first public performance at age seven. She graduated from Yonsei University in Seoul, with a B.M. in piano performance and a B.A. in English Language and Literature. She completed her graduate work at Miami University (M.M.) and at the University of Missouri – Kansas City, Conservatory of Music (D.M.A.) under the tutelage of renowned Dr. Robert Weirich and served as his teaching assistant. She is dedicated to bringing music to the under-served public as well as providing more exposure to musical compositions that are less known. In this endeavor, she was awarded the Lilly research grant and was a featured performer on Live From FM 91 on WGTE. She is currently a member of Duo Dolce, Soprani Compagni and the IWU Faculty Piano Trio. Her recent performances this season include a recital at the Carnegie Hall's Weill Recital Hall as a part of the Distinguished Concerts Artist Series.