David Cortright to give Yoder Public Affairs Lecture on 'The Power of Nonviolence'
Yoder Public Affairs Lecture: "The Power of Nonviolence: Lessons from the Unarmed Revolution in Egypt," by David Cortright, director of policy studies at the Kroc Institute for International Peace Studies at the University of Notre Dame
Date and time: Tuesday, Oct. 30 at 7:30 p.m.
Location: Goshen College Music Center's Rieth Recital Hall
Cost: Free and open to the public
---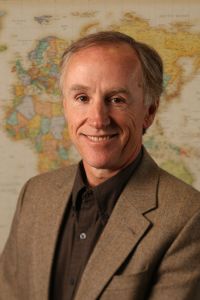 David Cortright, director of policy studies at the Kroc Institute for International Peace Studies at the University of Notre Dame, will present the annual Goshen College Yoder Public Affairs Lecture on Tuesday, Oct. 30 at 7:30 p.m. in the Music Center's Rieth Recital Hall. The lecture, titled "The Power of Nonviolence: Lessons from the Unarmed Revolution in Egypt," is free and open to the public.
Beyond a moral and religious choice, nonviolence has proven to be a practical way to effectively achieve peace and justice, as illustrated in the Egyptian revolution of 2011. Cortright will review how the Egyptian people succeeded in bringing down the entrenched Mubarak dictatorship, distill lessons from the revolution and pose questions about the philosophy and practice of nonviolent struggle for the future.
In addition to his Oct. 30 lecture, Cortright will also present "Clean Hearts and Dirty Hands: Why Christians Should Be Involved in Politics" during Goshen College's convocation on Monday, Oct. 29 at 10 a.m. in the Church-Chapel. He will also hold an interdisciplinary forum, "Sharing Personal Stories of Connection to the Arab Spring from the GC Community," on Oct. 29 at 4 p.m. in Newcomer Center room 17.
In addition to his work at Notre Dame, Cortright is also the Chair of the Board of the Fourth Freedom Forum, a nonpartisan, nonprofit operating foundation that is a trusted source for providing realistic solutions to today's most urgent global security threats. The author or editor of 17 books, Cortright has written widely on nonviolent social change, nuclear disarmament and the use of multilateral sanctions and incentives as tools of international peacemaking. His most recent books include "Ending Obama's War" (Paradigm, 2011) and "Towards Nuclear Zero" (Routledge, IISS, 2010).
Cortright has provided research services to the foreign ministries of Canada, Sweden, Switzerland, Japan, Germany, Denmark and The Netherlands. He has served as consultant or adviser to agencies of the United Nations, the Carnegie Commission on Preventing Deadly Conflict, the International Peace Academy and the John D. and Catherine T. MacArthur Foundation.
He holds a bachelor's degree in history from the University of Notre Dame and a master's degree in history from New York University. He completed doctoral studies in political science at the Union Institute in residence at the Institute for Policy Studies in Washington, D.C.
The Frank and Betty Jo Yoder Public Affairs Lecture Series is an endowed lectureship that was created for Goshen College in 1978 by Frank (1917-1996) and Betty Jo Yoder of Goshen. The goal of the series is to enable faculty, students and community to hear well-known speakers address current issues.