Goshen College community remembers Professor of Biology James S. Miller on the one-year anniversary of his death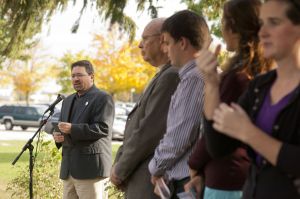 Goshen College students, faculty, staff, alumni and community members gathered Tuesday, Oct. 9 and, through fond memories, tears, prayers and singing, commemorated the one-year anniversary of the tragic death of Professor of Biology James S. Miller.
A home intruder killed Professor Miller, 58, about 1 a.m. on Oct. 9, 2011, according to the Goshen Police Department. Linda Miller, Professor Miller's wife, was wounded in the attack and was hospitalized for five days. She said her physical wounds have healed, but she continues to suffer emotionally from the attack and the loss of her husband.
While police continue to investigate the case, and the Indiana State Police Laboratory still is examining evidence taken from the Miller home , family, friends, colleagues and members of the college community gathered twice on Tuesday to remember Professor Miller's 31 years of service to Goshen College as well as to offer prayers for healing and peace.
During a mid-morning gathering a few steps from what was once Professor Miller's office in the Science Hall, the Department of Biological Services held a brief ceremony to dedicate a photographic image taken, edited and donated by Dr. Richard Manalis, emeritus professor of biology at Indiana University-Purdue University Fort Wayne . The black and white print, titled "Imagined Destination," depicts a road cutting through a beautiful forest and ending in mist and a patch of sunlight, which suggests journeys taken by Professor Miller before and after his death.
Heartfelt and emotional comments by Manalis, as well as colleagues in the biology and nursing departments, brought tears to the eyes of some of the three dozen family members and friends present for the brief dedication. In a statement released Tuesday, Linda Miller said the past year has been the most difficult one of her life.
"Our family continues to mourn the loss of Jim as husband and father. Jim's presence, his love, his jokes and his medical knowledge are just a few of the things that we miss. The physical wounds incurred that night have healed, but the emotional ones will take more time. Our children are doing as well as can be expected for grieving children. Life is not easy," she said.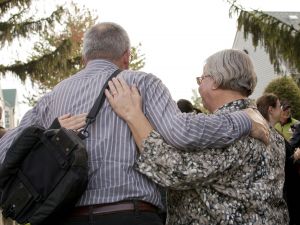 "I continue to trust God every day for strength and for healing. I have experienced God's peace, power and presence in the midst of this tragedy. God never promised us an easy life, but he did promise to never leave us. Thank you to all those who supported us in various ways this past year," she added.
On Tuesday afternoon, beneath clear skies, about 150 people met at the campus prayer labyrinth for a remembrance gathering led by Campus Minster Bob Yoder. The labyrinth was chosen as the site of the gathering because it now features new landscaping and a bench, donated by the Class of 2012 and the Class of 1962, in remembrance of Professor Miller.
President Emeritus Victor Stoltzfus read a prayer written by President Brenneman, who was out of state and could not attend the gathering. In the prayer, Brenneman acknowledged Professor Miller's many contributions as a teacher, colleague, parent, brother, spouse and family member, and called on God's presence to bring healing to a community that continues to suffer and mourn: "We remember, Jim, today, on the anniversary of his untimely and cruel death. Words still do not adequately express our sorrow, nor silence convey our grief."
Two Goshen College students then spoke about what Professor Miller meant to them.
Indigo Rey Miller, a senior nursing major from Colorado Springs, Colo., recalled Professor Miller as an academically tough professor with a passion for education manifested through his detailed lectures, long multiple-choice tests, after-hours mentoring and corny jokes.
"Weaving silly humor into our understanding of serious biological processes may have been a questionable move, but it made me rethink why we learned what we did in 'Anatomy and Physiology' and 'Human Pathophysiology.' He taught us what we needed to be educated nurses, but also how to see the beauty in life's complexity.
"For nursing students, Dr. Miller was our liaison to the hard sciences. He was the fascinating, challenging and vital window into the science, which drove the medical world," Indigo Miller said. "I will never forget the dedication Dr. Miller had for his students and relationships. I'd like to thank him for all his has done for me and the Goshen College community."
Peter Martin, a senior molecular biology/biochemistry major from Goshen, said that he was fortunate to have known Professor Miller: "I just had my first interview with a medical school, and I feel as though Dr. Miller paved the way for both myself and countless others who have pursued graduate education after Goshen College. I am certain that Dr. Miller was a huge reason why I made it to that interview, and why I will also continue to pursue a career in medicine."
During his junior year, Martin said that he felt isolated from classmates because he had moved off campus. When Professor Miller learned this, he often took time out of his busy schedule to have lunch with Martin to help him keep connected to the college. During a final, hour-long conversation, two days before he was killed, Martin said that he finally understood what made Professor Miller so special.
"He was passionate about his career, but more importantly, he was totally invested in his family and his students. I know that he cared deeply for both his family at home and his Goshen College family," Martin said. "My hope is that people will remember him for much more than his quick wit, love of jokes and countless data. I hope that people will remember him as being a caring man who conducted himself with a sense of integrity and humility."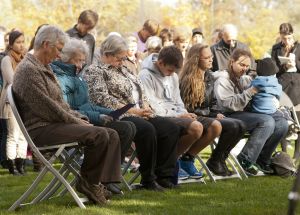 Goshen College Professor of Music Beverly Lapp drew the 30-minute gathering to a close by leading participants in singing a gentle and consoling hymn — "Lord, Listen to your Children Praying." Afterward, people lingered in the labyrinth and many greeted and consoled Professor Miller's family and friends.
James Steven Miller was born Aug. 6, 1953, in Millersburg, Ohio, to Oscar Miller and Elizabeth (Bixel) Miller. He grew up in Berlin, Ohio and graduated in 1971 from Hiland High School, where he was valedictorian. He graduated summa cum laude from Bluffton University in 1975 with a B.S. degree in chemistry. He completed his doctorate degree in physiological chemistry (now known as medical biochemistry) at Ohio State University in 1980.
Professor Miller came to Goshen College to teach in 1980. The Goshen College Board of Directors granted him tenure as associate professor of biology in June 1985. He primarily taught upper-level courses taken by students in health-related tracks.
Professor Miller was known as a serious and dedicated academician and researcher. Family members and colleagues say he loved computers and applied a rigorous scientific approach to much of what he did — from teaching and administering tests to researching ways to ease his chronic back pain and improving his sense of humor.
Professor Miller was an active participant at Clinton Frame Mennonite Church, and before that College Mennonite Church. He is survived by his wife, Linda Miller; two daughters, Lisa Rose (Jeff) Martin, and Leanne Miller, both of Goshen; a son, Robert Miller, Goshen; a grandson, Jared Martin; his mother, Elizabeth (Marlin) Jeschke, Goshen; a sister, Kathy (Willard) Fenton-Miller, Marcellus, Mich.; and a brother, Tom (Crystal) Miller, Portland, Ore. Professor Miller was preceded in death by his father, Oscar Miller.
—Written by Richard R. Aguirre